KPL
Kenya's Only Free Betting newspaper launched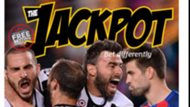 Betting is arguably Kenya's fastest growing industry and with it, comes a lot of things.
It's time to bet differently.
Over the years, you probably have been on the lookout for betting tips, betting advice and all that comes with gambling. Look no further! Kenya's only free sports betting newspaper is finally here! TheJackpot Daily!
TheJackpot Daily is Kenya's only free sports newspaper. Free everyday forever! Launched this week, the Jackpot offers the latest local and international sports news, match analysis, expert betting tips, game odds and much much more.
Sports newspapers are fun, and should be free, shouldn't they? Yes. With TheJackpot Daily, get your daily copy free of charge. TheJackpot Daily Newspaper has been designed to fit right on your mobile, tablet or PC and enjoy crisp images and exciting sports and betting content. You simply can get the latest and previous editions of TheJackpot Daily by logging on to www.thejackpot.co.ke. TheJackpot Daily will soon be available on the streets too around the country for free!
Be different.  Bet differently. Take up the challenge.