Africa Cup of Nations Qualification
Kenya moves five places up in Fifa rankings after Afcon win over Ghana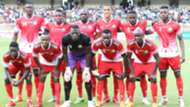 Kenya is among the biggest movers in the latest Fifa World rankings with Harambee Stars climbing five places up to position 107 globally.
Harambee Stars gained 22 points after beating Ghana and Malawi in the Afcon Qualifier and a friendly match in September.
The move saw Kenya make the biggest leap in Africa, from position 112 that they held in the previous rankings. Ghana joins Slovenia (61) as the biggest losers of the month after the Black Stars dropped six places down to position 51.
Uganda, who played out to a 1-1 draw with Tanzania, dropped one place down to position 83 while Taifa Stars did not move a place (140) as they sit four places behind Rwanda on 137.
Continentally, Tunisia dislodged Congo DR, who dropped three places to third, same as Cameroon, who are now fifth.
Globally, Belgium climbed to the top alongside 2018 Fifa World Cup winners France, which means that the top spot is currently being shared for the first time in the table's 25-year history.
A pair of wins for the Red Devils (1st, up 1), including their first in the Uefa Nations League over Iceland (36th, down 4), has brought them level with Les Bleus (1st, unchanged) on 1729 points. The only other change in the top ten sees Denmark (10th, down 1) slip below Spain (9th, unchanged).
Outside of the top ten, two Nations League wins for Ukraine (29th, up 6) over Czech Republic (47th, down 3) and Slovakia (26th, unchanged) means that they are the month's biggest movers, while Germany (12th, up 3) have started to edge back toward the upper reaches.