A-League
Kenny Lowe questions staggered final round kick-off times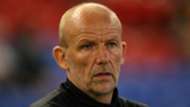 When the full-time whistle blows on Perth Glory's clash with Brisbane Roar, neither side will know whether they've done enough to creep into the A-League finals until almost 24 hours later.
Regardless of the result, the top six will still be in Western Sydney Wanderers' hands who can claim their spot in the finals with a win over Adelaide United on Sunday. 
With Kenny Lowe's Glory side hosting Brisbane on Saturday night, the Perth coach would have liked to have seen every game in the final round kick-off simultaneously. 
"It's just a pity they didn't all kick off at the same time," Lowe said.
"It would have been interesting to see how the games ebbed and flowed.
"At the end of the day, there are advantages in knowing what you need to do the next day."
Though a fair point, the practicalities of televising every game would perhaps be a hurdle too large for Fox Sports and indeed further stretch already struggling tv ratings.
Simultaneous kick-offs in the final round of league seasons are common in Europe, with Lowe himself knowing first hand the thrill of it. 
"And also the excitement of it - I know myself from back home, you go into the last game of the season, you've got the red button so you can flick from game to game to see who's winning," he said.
"If you want to grow the league, get some drama in it. That would be good."