Concacaf Champions League
Kellyn Acosta exemplifies FC Dallas' fight in CCL win over Pachuca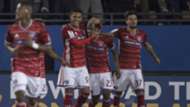 FRISCO, Texas — Kellyn Acosta's set-piece winner Wednesday nearly didn't happen.
Questions remain on U.S. roster
With the score level at a goal apiece in the first leg of FC Dallas' CONCACAF Champions League semifinal against Pachuca, defender Maynor Figueroa looked antsy. He wanted to step up and test Tuzos goalkeeper Alfonso Blanco with a thunderous blast from his left foot.
Instead, 21-year-old midfielder Acosta produced a moment of magic with his right, giving FCD a 2-1 victory and keeping hope alive his side can become the third MLS team to advance to the CCL final.
"He said he wanted it," Acosta said of his Honduran teammate. "I was like, 'Nah.' I went and got it, I was the first one to grab the ball, I was like, 'No, this is mine,' and I'm glad I could finish it off."
GOAL Dallas, Kellyn ACOSTA No. 23 | @FCDallas @Tuzos #SCCL #SoyAficionado https://t.co/VTYS1Kjp62

— CONCACAF (@CONCACAF) March 16, 2017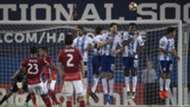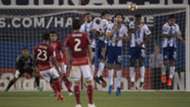 Figueroa might've had a case to call off Acosta. Sure, the recently recalled U.S. international had scored twice in FCD's first leg win over Arabe Unido in the quarterfinal, but his set pieces didn't seem to be on target Wednesday. With FCD desperately searching from an equalizer after Franco Jara's third-minute opener, Acosta twice sent corner kicks to the top corner of the box with no teammates anywhere in the area.
It seemed that a designed play wasn't coming off correctly. The reality, the Texas native confessed, was that it was simply poor execution.
"Yeah, that was a technique thing, that wasn't really a play or anything like that. I was just hitting them poorly," he said. "I think once the game went on I kind of hit them a little bit better. I had maybe a couple of dangerous ones. It was pretty poor by me. I need to put time in on the practice field and hope I can get better."
Opponents will beg to differ. Acosta's game was an example of FCD's night as a whole. He and the team seemed nervous early, with players taking poor touches and making bad passes as Pachuca's pressure helped the visitors control the game. But, as the match wore on, the team and Acosta got more and more comfortable.
As Pachuca seemed content to sit back and protect its lead, an advantage enhanced by the fact the goal was scored away, FCD found itself back in the game thanks to Maximiliano Urruti's equalizer just before the halftime break. And the MLS side continued its push for more at the opening of the second half.
"We'll just say he needed to warm his leg up," center back Walker Zimmerman joked about Acosta's errant efforts in the first half. "If that's what it takes, two longer corners to put that one in, we're happy with that.
"What a strike from Kellyn, definitely in good form on the set piece side of things. We're just going to continue to work on our corner kicks and free kicks and keep getting that timing down, getting that delivery down and I'm sure it'll be better in the future."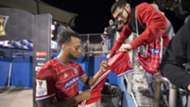 FCD would be ecstatic if it can find a goal from a dead ball in the second leg. Pachuca has a 28-match undefeated streak at the Estadio Hidalgo in all competitions, with its last home loss coming in Februrary 2016 to Atletico San Luis in Copa MX play. 
The lead is slim, but FCD coach Oscar Pareja said he will continue to put his confidence in Acosta, who dedicated time this offseason to becoming a better player in the attacking half. With No. 10 Mauro Diaz out recovering from an Achillies injury suffered late in the 2016 campaign, it's up to the central midfielder to hit free kicks that previously would've been taken by the Argentine playmaker.
"He was the taker, he was the one that had the responsibility — as you know we have to continue with the plan," Pareja said of Acosta. "I knew for a moment we were going to have options to score from a corner, from a cross. We worked very, very hard during the week, the boys trained in practice. The free kick was a reward for him and for the team also."
The sweetest reward, of course, would be a trip to the CCL final, where FCD would have a chance to become the first MLS team to lift that trophy. If that comes off, Acosta's three goals in three CCL matches surely will go down as one of the turning points.
So don't be surprised when FCD wins a free kick outside the area and you see Figueroa and others back up. Even if the early results aren't promising, FC Dallas has learned to be calm. After all, Acosta has got this.