Kaizer Chiefs
Kaizer Chiefs: Patrick Mabedi has communicated his Malawian role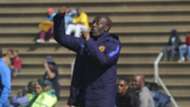 Kaizer Chiefs assistant coach Patrick Mabedi has reportedly been handed a role as assistant coach of the Malawian national team.
The Flames national team coach Ronny Van Geneugden entrusted the former Amakhosi defender as following his return to the national side's bench.
Although the South African giants could not deny or confirm the development in a phone call regarding their assistant coach, media reports in Malawi have confirmed the news.
Van Geneugden has decided to remove Gerald Phiri Snr from his bench and roped in the Amakhosi legend, who is now working with coach Steve Komphela.
Goal put in a call to the Naturena-based side for comment regarding this development where it is reported that the former defender will join the national team on a temporary basis.
It is reported that the 44-year-old will work with Geneugden during the Fifa breaks and off-season, but Chiefs' corporate communications manager, Vina Maphosa, said he is not at the club during a telephone call and was unaware of the developments.
"I am not aware of this. For now, I cannot talk about this because this is an issue involving the Malawian Football Association," Maphosa told Goal.
"I would suggest that you talk to the football association about this - they are the ones who are quoted in the paper talking about this," added the manager.
"If you have interest in the story, contact FAM. I will do my best from my side and talk to the club and get more information," he said.
"If we have all the right information, we will definitely publish the story on our platforms. Look, even if I can call the coach (Mabedi) and tell him a certain reporter called me, it will not be the right thing to do," noted Maphosa.
"I am not at the club. I will surely give the football manager (Bobby Motaung) a call and find out from him, but for now, there is nothing on my desk. I will seek clarity for you because I haven't read it yet," said Maphosa.
However, prior to publishing the story, Maphosa responded via an email, saying the call-up by the Malawian Football Association was communicated by the ex-defender.
"Assistant coach Mabedi has communicated his call-up by the Malawian National Team to the club," responded Maphosa.
"The call up will follow club processes and further communication will be issued," concluded Maphosa.