PSL
Kaizer Chiefs fans expect too much, says Setlhodi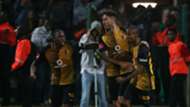 Legendary goalkeeper Joseph 'Banks' Setlhodi doesn't see Kaizer Chiefs as strong contenders to win this season's PSL title. 
The Soweto giants are placed fourth on the log with 34 points from 19 league games. 
"We cannot talk about the league now. The league is a marathon. The league is not something that is won within two months or so," Setlhodi told Goal.
"So, let's not talk about the league now and Chiefs looking to win it. Let's talk about whether they will be able to carry out the marathon - that is the league," Setlhodi said.
Setlhodi added that Chiefs fans need to be realistic about their chances winning a trophy this season. 
"You know, people who say Chiefs is doing well are spoilt. They think Chiefs need to win one or two more trophies this season. They should instead look at the team holistically and assess whether they are good to win one or two trophies," Setlhodi continued.
Just as recently crowned English League Cup champions Manchester United, Setlhodi believes the Amakhosi supporters fall in the same bracket as those of United.
"Let's talk about Manchester United. They have a completely new team. If they win the league it will be a bonus. So, Chiefs and Manchester United fans are so spoiled, they expect the team to win trophies every season," Setlhod said.
"Look at Liverpool fans, they are not spoilt because they are not used to winning so much every season. As long as they qualify for European competitions they are happy," Setlhodi concluded.