Transfers
Kaitano Tembo not SuperSport United's permanent head coach just yet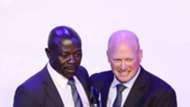 Despite SuperSport United having given Kaitano Tembo the green light to continue his job in the role of caretaker coach, the club have not made his appointment permanent just yet.
Tembo has been in charge ever since the departure of Eric Tinkler towards the end of the 2017/18 season where he guided SuperSport to safety.
His success led to much speculation that he would be given the job on a permanent basis.
The club have also been linked with a move for Free State Stars coach Luc Eymael, but a move has not materialised.
However, in a recent interview with SowetanLive, Matthews has admitted that while Tembo is currently in charge of the team overseeing their pre-season preparation, he is not the permanent coach just yet.
"He is in charge at the moment and that is the way it is staying for the time being. We have a few options locally and abroad," Matthews said.
"We have been open with Kaitano and he has got the inside lane. And that is the way it will stay unless we bring someone from the outside," he added.
"It would have to be someone very special for us to bring someone in from the outside," he continued.
Meanwhile, SuperSport are keen on building an international identity at the club.
"We are quite determined to bring some international element to the club, especially if Kaitano stays on as coach," Matthews said.
"He worked with the Dutch system from our partnership with Feyenoord. We are definitely going to have some sort of Dutch influence within the club over the next three years," he expressed.
Furthermore, Matthews has not hidden his desire to see Tembo achieve great things at SuperSport, similar to what former coach Pitso Mosimane has done at rivals, Mamelodi Sundowns.
"He and Pitso have very different personalities because no two people are alike. But what I see is desire, hunger and loyalty," he explained.
"A genuineness to help the young players and to hold the senior players responsible. He is one of our own and has come through the ranks. Everyone at the club is motivated to help him to succeed," he concluded.