Ligi kuu Bara
Kagera Sugar's Maxime hoping to avoid relegation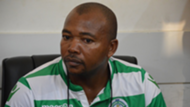 Mecky Maxime the man who brought salvation to Mtibwa Sugar, gave an insight into what is required for Ligi Kuu Bara survival as his current club, Kagera Sugar, plunged into the bottom three on Sunday.
The former Taifa Star player has yet to celebrate a league win despite two attempts since the turn of the year and the latest failure, following a draw against Azam, leaves him in trouble.
But the Kagera Sugar coach has not lost hope despite uninspiring form from his team in Ligi Kuu Bara this season, he still believes that they will manage to escape relegation.
"We all have eyes and we saw the game, but that is irrelevant to the results, only results justify what we are doing but I still have hope and I encourage my players that we will do better.
"It was a nice game and lads played very well to win three points but our opponents were also aggressive and they got an equalizer, we got a draw and one point which is not so bad."
After the draw Kagera Sugar have 14 points and 15th in the league standings, the second from bottom.