Africa Cup of Nations Qualification
Javier Aguirre wants more than one Mohamed Salah in Egypt national team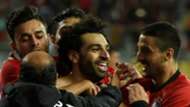 Following another superb showing against Tunisia, Javier Aguirre wants other Egypt players to perform in 'the same way' as current African Player of the Year, Mohamed Salah.
With the game headed for a 2-2 stalemate, the Liverpool star produced a moment of brilliance to net a 90th-minute winner which included a smart exchange with Salah Mohsen, nutmeg and a cheeky chip over the visitors' goalkeeper.
The goal ensured they moved level with Tunisia at the summit of Group J with 12 points from five African Cup of Nations qualifying games and coach Aguirre hopes to have another Salah within his ranks.
"We started the game in a good way but we conceded a goal. I told the players that we just have to concentrate and we will win at half time," Aguirre said in a post-match conference.
"We inserted four new players in the team in the last period. We will play in a better shape in the coming period and I hope to see more than one Mohamed Salah soon. Salah is fantastic and I hope that everyone performs the same way he does."
The Argentine gaffer also reserved praise for his team's interpretation of his style, while hinting that a friendly encounter is being lined up in March, after their final 2019 Afcon qualifying match against Niger.
"In March we will face Niger then we will play a friendly against a team that is yet to be decided. We conceded three goals and scored 15 in four games which proves the strength of Egypt. We play with a different style, with open lines. It is easy to play in a defensive way but I don't like that."