KPL
Jack Oguda: KPL to keep MediaPro for live coverage next season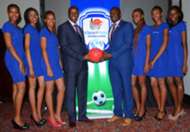 Kenya Premier League Limited has downplayed talks of a possible divorce with Spain-based communications group MediaPro.
CEO Jack Oguda has confirmed to Goal that MediaPro is here to stay in respect to their contract sealed early this year. "MediaPro cannot leave since we still have a three-year contract with them, and the contract is that they have an obligation to produce next season's league matches."
MediaPro has been producing Kenyan Premier League matches in the just concluded season with a handful being beamed live on local television. At the beginning of the season the content produced was distributed for live airing to various TV stations, among them KTN, NTV, KBC and Y254.
However, by the time the league was ending, the number of live TV games were few, with the live feed signal shared to Media Max's K24. "This season we were doing a trial on which station can air our KPL matches but our strategic plan is to settle on one free to air station and the conversion is still on."
A total of seventy-two matches were televised live last season.