AIFF Women's National Championship
Indian Women's League 2017-18: Fazila scores five as Gokulam Kerala open account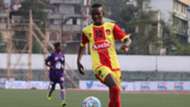 Eastern Sporting Union (ESU) have taken the early with their consecutive win in the ongoing Indian Women's League (IWL) games at the Jawaharlal Nehru Stadium in Shillong, Meghalaya. The defending champions defeated India Rush SC 3-1 in Saturday's set of games. 
Kangchup Road Young Physical & Sports Association (KRYHPSA) and Rising Student's Club were locked in a 1-1 draw, and in the third fixture of the day witnessed a five-goal mauling by Ikwaput Fazila in Gokulam Kerala's 6-1 win over Indira Gandhi Academy for Sports & Education (IGASE).
 
---
KRYHPSA [Ratanbala Devi 78'] 1-1 RISING STUDENT [Anju Tamang 76'] 
---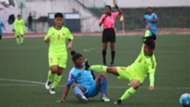 KRYHPSA, who had defeated Sethu FC 5-0 in their opener, weren't going to have it easy against Rising Student's Club after the latter had gone down by a goal against ESU in their previous encounter.
Sanju and Ashalata had their chances while Prameshwori's attempt was near miss for KRYHPSA in the 13th minute. Ratanbala's shot too went over and so did Rishing Student attacker Pyari's free-header as the first half ended in a goalless affair.
Bala Devi, who had scored early against Sethu, was brought in the mix in the second half. She began building play alongside Ashalata and Ratanbala and nearly nodded the opener in the 66th minute before Ashalata's attempt at goal three minute later.
It remained 0-0 even after Bala Devi had another opportunity off a header in the 71st minute and went on to miss another chance soon after.
However, it was Rising Student who broke the ice with a rasping strike by Anju Tamang from around 25 yards out that entered the KRYHPSA goal.
Celebrations were cut short by Ratanbala's equaliser from close distance before KRYHPSA could have gone ahead too, but for Rising Student's Suprava to effect a goal-line clearance to keep Ratanbala from scoring a back-toback brace in the 2017-18 IWL.
Lochana, too, could have scored a late winner but saw her shot blocked as Rising Student were forced to share the spoils with KRYHPSA.
 
---
INDIA RUSH [Dalima Chhibber 86'] 1-3 EASTERN UNION [Kamala Devi 7', 27; Ranjibala Devi 90+3'] 
---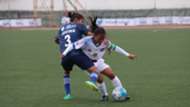 Eastern Union's Prameshwori made daunting runs on the left flank and assisted Kamala Devi's first goal with an inch perfect cross in the seventh minute.
Kamala's audacious bicycle kick was then blocked in the 19th minute before she doubled her side's lead in the 27th minute with a calm finish.
ESU goalkeeper Panthoi was called into action for the first time in the 43rd minute to keep out Grace's shot at goal before the former were a mere spectator to Ranjibala and Prameshwori's stray attempts.
Crossing over too, India Rush were unable to take the ball past their own half while Thahenbei shot wide after receiving a pass by Kamala.
Dalima Chhibber offered some late hope for India Rush with long range shot, like she did in the 1-2 loss against IGASE on Wednesday, only this time from a free-kick that Panthoi was guilty of letting the ball slip from her grasp. ESU however made sure of their win courtesy Ranjibala's injury time goal.
The win takes Eastern Union, with nine points from three games, five points clear atop the standings. Having played two games, India Rush are the only side yet to open their account in the league.
 
---
INDIRA GANDHI ASE [Sumithra Kamaraj 24'] 1-6 GOKULAM KERALA [Ikwaput Fazila 32', 44', 45+2', 58', 76'; Anita Rawat 81'] 
---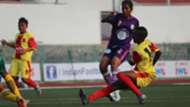 Fazila's five-goal performance had to be the highlight of the day as Gokulam Kerala announced their first points in style after losing a couple of games in their debut season in the IWL.
The Ugandan striker opened the floodgates only after Indira Gandhi ASE scored against the run of play when Sumithra Kamaraj's shot from an acute angle got past Gokulam goalkeeper Rumpa Malik in the 24th minute.
The equaliser came in a rather fortunate manner as Fazila's shot took a deflection that was enough to bulge the net before Naocha squandered an opportunity to give Gokulam the lead.
Meanwhile, Rumpa ensured the southerners wouldn't concede another goal with crucial saves before Fazila eased the pressure for Gokulam with a composed finish from the edge of the box in the 44th and thereafter completing her hat-trick with another calm strike in the first half itself.
Gokulam weren't done yet as they continued to attack in the second half with all deliveries directed towards Fazila, who was taking the IGASE defenders for a ride.
Fazila drove home her fourth in the 58th minute and followed it up with another goal in the 76th minute that couldn't control the Gokulam side from getting into the mood for a dance as they celebrated for the fifth time.
Just as Fazila was done with her goal fest, Anita Rawat joined the party with a strike of her own to complete the 6-1 route of the Indira Gandhi ASE side who weren't able to figure what struck them.