World Cup
'It's really coming home' - Ghana reacts to England's World Cup triumph over Sweden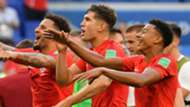 Somehow, Ghanaians hold belief that their beloved Black Stars could match The Three Lions of colonial masters England on any day. 
A 1-1 draw in an international friendly at Wembley in 2011 has only further cemented that feeling.
Having failed to cross paths competitively when Ghana appeared at consecutive World Cup tournaments between 2006 and 2014, a chance to possibly settle the debate at this year's fiesta was spurned as the Black Stars failed to qualify for the gathering. 
England, though, are present in Russia and utter blazing on all cylinders. 
On Saturday, The Three Lions booked a place in the World Cup semi-finals for the first time in 28 years following a 2-0 victory over Sweden. 
Harry Maguire opened the scoring in the 30th minute with a header, before Dele Alli added the second after the interval. 
As Ghanaians hold on for that big 'decider', they had almost no option than to watch The Three Lions strut their stuff against the Swedes on Saturday. 
Goal samples some reactions. 
It's really coming hoooome!! Come on Englandddd #WorldCup2018

— Fuse ODG (@FuseODG) 7 juillet 2018
Commentator: England is the 3rd youngest team only after Nigeria and France

Me: Lol.

— Francis Doku (@TheGHMediaGuru) 7 juillet 2018
It could well be .... "Its coming home.... it's coming home. Football coming home" 🎼 Congrats England. . #EnglandvsSweden

— Ama K Abebrese (@Ama_K_Abebrese) 7 juillet 2018
Let's just say England have finally got themselves a good goalkeeper. Finally. Until he does a Green/James/Karius/De Gea/Muslera, of course.

— Enn Y. Frimpong (@the_logoleptic) 7 juillet 2018
Football won't go home but England have done well so far in this World Cup. Impressed.

— AAA (@aaabeljnr) 7 juillet 2018
They are under no pressure, they aren't expected to be playing great. All they need to do is get the results anyhow they can. So far it has worked for them. The dream is on but...... #ENG

— Atsrim Sitso Philip (@OfficialSitso) 7 juillet 2018
Why is everyone angry that England just won?

— MrDumelo (@johndumelo1) 7 juillet 2018
Sweden have just not been good enough. Very poor. Lacking ideas.

— Duncan Ofosu (@dunckson) 7 juillet 2018
man this England side is free of expectation, playing the kind of opportunistic football that decides tournaments & riding on it.

— — (@_Kagyah) 7 juillet 2018
The 3 Lions match on to the semifinals. First time since 1990-some 28yrs in the waiting. Its coming home. pic.twitter.com/yYaKhUXhht

— Samuel Apam Sammer (@apamone) 7 juillet 2018
Work needs to be done on Rahim Sterling's finishing. Can't be throwing away chances just like that.#JDworldcup #ENGSWE #WorldCup

— JOSELYN DUMAS® (@Joselyn_Dumas) 7 juillet 2018