Liverpool
'It's our fault' - Klopp out of excuses after Liverpool's latest defenceless display
On 36 minutes, Sean Dyche shouted "calm down" and signalled to his side to slow the play again at Anfield as he worryingly checked his watch. From the first whistle, Burnley had looked to do just that, with Nick Pope taking an age on goal kicks and similar happening at throw-ins and every other opportunity.
But they were now caught up in Liverpool's chaos: a relentless drive forward with the bombardment coming from all directions and personnel. Sadio Mane was missing through suspension, but Philippe Coutinho - still in need of rhythm - was back to orchestrate matters in midfield as seven changes were made.
Liverpool Evens to beat Leicester
Jurgen Klopp's men were so authoritative on Saturday afternoon that Joel Matip dribbled and danced in the area as though he belonged to the front three rather than the rearguard. But Dyche shouldn't have worried because, as Burnley tend to do and already showed at Chelsea and Tottenham, they are more than capable of seeing out an attacking storm.
For Liverpool, their "self-fulfilling prophecy" - as the manager termed it - continues. Errors at one end of the pitch and lack of ruthlessness at the other leaves them winless in their last three fixtures across all competitions.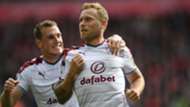 "We made seven changes but it was still really fluent, it looked like proper football – offensive football, dominant football, possession football how it should be," Klopp explained. 
"We created moments. You cannot create in each situation a finishing situation, but we did it absolutely often enough. It feels strange, it feels wrong, but it's a fact – we drew. 
"Why we feel so disappointed or frustrated is because we all see what this team would be able to do. Seven changes and playing that kind of football – nobody should take that for granted, it's pretty rare, so that's good. Obviously we have quality and now we have to use this quality consistently, that should be the plan."
The visitors showed no early ambition to attack, and yet were ahead following their first clear opportunity. James Tarkowski directed a long diagonal towards Robbie Brady, who got the better of Trent Alexander-Arnold in the air. Matip tussled with Chris Wood with Ragnar Klavan trying to win the same ball.
The striker still managed to knock it down despite the attention of both centre-backs and Scott Arfield arrived into the vacant space to finish off the move unchecked. Emre Can wasn't alert to his run from midfield and Andy Robertson had realised the danger too late - it was the kind of collective defensive failure the Reds boss had referenced pre-match.
"Could Trent have won the first headed challenge? Yes," Klopp admitted. "Then the block on Joel, it's difficult to do better because the defender cannot do it exactly the same because then it's a foul. I'm not sure if it was already in the box but for sure around the box. He did it in 500 other situations really well.
#LFC with 35 shots, nine on target, one goal.

Burnley with five shots, four on target, one goal.

— Melissa Reddy (@MelissaReddy_) September 16, 2017
"Raggy was there to protect the situation but the ball bounced in the wrong direction, it's difficult to judge. Robbo knows he could have seen Arfield earlier. That's how it is. He goes in between; it was a bouncing ball, they are quicker and they are more used to these situations, they do it more often.
"That's what they are working for. He hit the ball perfect, it was not even that he needed a few touches. It was a good goal, absolutely, but we could have defended it much better."
Liverpool allow the softest of chances, but they score the sweetest of them too. Three minutes after finding themselves 1-0 down, Can dispatched a delightful ball over the top from inside his own half for Mohamed Salah to contest.
The Egypt international controlled it with his left thigh, slicing between Stephen Ward and Tarkowski as he took a touch and cannoned his shot beyond Pope.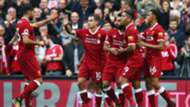 That galvanised the hosts, who upped the ante as they sought to further damage Burnley's frustrating, effective set-up. But they couldn't. There were three penalty shouts - two involving Salah and one with Roberto Firmino - and they had 30 more shots in total than their opponents.
Dominic Solanke hit the crossbar late on and Pope turned in a top display in-between the sticks, but Liverpool cannot continue to dominate games to such an extent yet look back at defensive blunders and what could have been.
Burnley were close to departing Anfield with maximum points as they had two headers cleared off the line in a period that saw Matip chastise Klavan for failing to communicate as the Estonian unnecessarily went for the same ball as Can. 
Klopp admitted it would have "been typical" for Liverpool had they scored from either or both of those chances and that is the problem - being so commanding without killing off a game is too much of a distinctive trait for the Merseysiders.
"It's our fault. We are responsible for the things that happen to us," the German said afterwards, and as was the case in the 2-2 Champions League draw with Sevilla in midweek, they were their own worst enemies.
And as long as that remains the case, Liverpool will continue to promise much, but achieve little.