Simba
"It's not easy to play for the Simba first team" – Asante Kwasi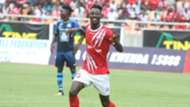 Simba's Ghanaian defender Asante Kwasi has admitted there is stiff competition for first team places in French Coach Pierre Lechantre's squad due to the team having many talented players.
Kwasi 28 joined Simba in the summer from Lipuli and has slotted easily into the first team with a string of great performances.
Speaking to Goal Kwasi said that there is high competition for places in the Simba team and he knows he is supposed to work hard in order to be fit and play in the first eleven.
"It's not easy to play for the Simba first team because you must be physical fit in training and also show good performances in matches in order to convince the coach to give you a chance to play" said Kwasi.
The Ghanain International says he believes he has what it takes to feature for the club as the technical bench were happy with his work on the field and that is why they signed him.