Premier League
'It's exactly the same' - Fans react as Chelsea, Man City and Tottenham unveil comparable third kits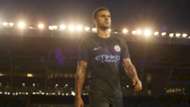 Chelsea, Manchester City and Tottenham have unveiled their brand new third kits for the 2017/18 campaign.
Reigning champions Chelsea donned a white third-choice strip en route to winning the Premier League last season, but the Blues have switched things up by going for black this season.
Man City, on the other hand, have opted against recreating their orange and purple look from last season by also going for a black design.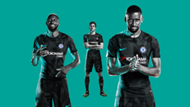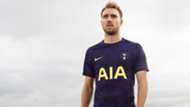 Meanwhile, Tottenham - who wore a gold trim in 2016/17 - will wear dark purple in the upcoming term.
One thing which some fans were quick to pick up on, though, was the fact that the strips all look remarkably similar, in particular Chelsea and City's, under shared kit manufacturer Nike.
Nike are really lazy. City and Chelsea basically got the same third kit

— #Doccia #17 (@D_Swirls) September 12, 2017
The new third kit is incredible. Shame it's the exactly the same as Chelsea & Man City's though.

— The Spurs Brain (@TheSpursBrain) September 12, 2017
City and Chelsea's third kit looks like same

— Christina (@ChristinaLNC) September 12, 2017
Spot the differenceSure Chelsea/Spurs/Man City fans will be delighted they're all wearing the same 3rd kit this season #CFC #THFC #MCFC pic.twitter.com/iYvdWhAtba

— Charlotte Hodges (@CharHodges88) September 12, 2017
City and Chelsea's 3rd kit are EXACTLY the same... Nike are out here on that copy and paste flex

— Michael Gyedu (@MichaelGyedu) September 12, 2017
Chelsea & Spurs 3rd are practically the same kit

— Naufal M. Efendi. P (@naufalmep18) September 12, 2017
Nike getting us and Spurs to release the exact same third kit on the exact same day. Cheers lads.

— Josh (@J0shPeake) September 12, 2017
All three strips will predominantly be used during Chelsea, City and Spurs' clashes away from home in the Champions League.
Chelsea get their Champions League campaign up and running against Qarabag at Stamford Bridge on Tuesday, while City travel to Feyenoord on Wednesday.
Tottenham, on the flip side, lock horns with Borussia Dortmund at Wembley Stadium on Wednesday.