African All Stars
'It feels great!' - Courtney Dike reflects on Nigeria return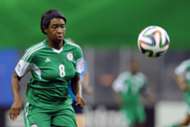 Courtney Dike says she is delighted to score a hat-trick on her return to the Nigerian women team fold in a 6-1 win over UMF Sellfoss.
The 24-year-old was a second-half substitute for Thomas Dennerby's team - and the former youth international justified her inclusion with a treble against the Icelandic topflight side on Friday.
Dike, who had been frozen out of the team since making her senior debut against Australia at the 2015 Women's World Cup is eager to build-up on good form. 
"It feels great especially not being with the team for a while.It's a huge confidence booster and a testament to the work I've done so far," Dike told Goal.
"At the same time, it gives me a reason to keep doing what I need to do, playing hard and learning from our games and continue to connect with my teammates ahead of the World Cup."
The American based forward was part of the Super Falcons' setup that suffered an 8-0 humiliation to Women's World Cup hosts France on April 4, 2018.
After a 12-month hiatus, the former Oklahoma State University forward has reflected on her absence from Nigeria's fold and has set her immediate ambitions.
"I missed a lot of the players that I've kept in contact with over the years," she continued.
"Not only teammates but we're basically family now. So, it's a great feeling that everyone is welcoming me back.
"It feels like we have a mix to be playing together on the pitch and I'm happy to be connecting with the whole squad as well.
"I've continued to play for Oklahoma City FC and also train with the men's team of the youth club that I practice with. I do personal training and my University coach has created a fitness packet for me to work on," she explained.
"I am maintaining my fitness and keeping my eyes on the goal for the World Cup and doing everything with the summer in mind."
Having participated in the 2015 edition, Dike will again hope to make Nigeria's final squad to France for this year's Women's World Cup.