Odisha v Jamshedpur
ISL 2018-19: Josep Gombau - The Delhi Dynamos project is in good direction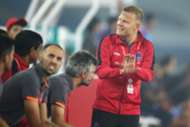 Delhi Dynamos are searching for their elusive first win as they were held to a 2-2 draw by Jamshedpur FC in an entertaining game on Sunday evening.
The Lions were pegged back by Sergio Cidoncha in the first half before goals from Lalianzuala Chhangte and Adria Carmona put them in the driving seat. However, Tiri converted from a corner to score the equaliser as points were split between the two teams.
"I think for us it was a game of two halves. In the first half, it was not so good. We didn't create many chances. We made a big error and conceded from it. In the second half, we were much better. We made three changes at half-time and took the game to them. We scored two goals in the first 15 minutes and were playing very well.
"After that they (Jamshedpur) showed their quality with the equaliser. It was a very open game (towards the end). As a team, as a project, we are in a good line (direction) I feel," said coach Josep Gombau.
The 42-year-old took a calculated gamble and made three substitutions at half-time which worked to his team's advantage as they scored two goals within 14 minutes of the re-start.
"I said to them that the first half was not good enough and that playing like this we cannot win a game. I took the risk of making all three changes in the break knowing fully well that we could be in trouble in case someone suffered an injury," he explained.
Gombau's side looked set to clinch their first three points of the season but conceded from a set-piece thanks to some poor marking. It has been repeated mistakes at both ends of the pitch which has cost them this season.
"We started strongly in the first game and in the second game too, we had chances. If I were to tell you what exactly has gone wrong, it will take a long time. I will narrow it down to three or four points.
"Point number one is that yesterday was the time I had all my players fit. We started the season with some injuries and that led to not a good preparation. Some players joined up late after their (India) U23 duties while some players were injured.
"Point number two is the schedule (with regards to) playing these number of games in a short time. Even knowing the mistakes we are making, I cannot work on players since we don't have any time to prepare between games.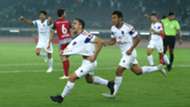 "Point number three is that we have very young Indian players on our squad like Chhangte, Shubham (Sarangi), Vinit Rai and Nandhakumar (Sekar). Young players can make mistakes at times but this is how they will learn.
"Every single game we lost or drew so far, it was due to small details. We had chances and momentum and it's not like we suffered a big loss or they were one-sided matches," he explained.
Delhi next travel to Goa to take on Sergio Lobera's side on Thursday and Gombau was questioned if the travelling would take a toll on his players given the frenetic scheduling.
"We are playing Goa on Thursday. I don't think we can chalk that down as an excuse.  For us, we are enjoying this kind of an experience. After the Goa game, the (international) break will be good for us.  We will get time to conduct recovery sessions and one or two training sessions to prepare for our next game," he responded.
Gombau finally mentioned that a draw was a fair result given that both Delhi Dynamos and Jamshedpur FC had their chances in the match.
"I think we deserved because we were very brave (three half-time subs).  What we did is something not usual and for that we deserve more. However, if you see the game, both teams deserved something with the chances they created. It was a fair result if you watch and analyse the game on television."