Indian Super League
ISL 2018-19: Jeje Lalpekhlua - Chennaiyin squad is good enough to win the trophy
Sooraj Kamath in Bengaluru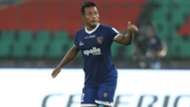 The Mizo sniper Jeje Lalpekhlua netted nine goals last season in the Indian Super League (ISL). The spearhead of Chennaiyin FC's attack, who is the Indian top scorer in ISL, shared positive words about the impact of ISL on Indian football.
"The base of the game and the quality has improved and there is a lot of difference between the first season and last season.  People have realized that football is going to be the future of national sports. I would like to thank IMG & Reliance as they have been hosting the ISL and for bringing Indian football to a very high level and I would like to see more of it in the future." 
Jeje also believes that the ISL plays a crucial role in nurturing young talent and preparing them to pick up the mantle from their seniors.
"We have a lot of good Indian players in our squad. Last year Thapa, Jerry and Germanpreet did quite well in ISL and got called up for the national team. This year we have Isaac (Vanmalsawma). There is a good mix of seniors and juniors in our squad. They will become an important part in the course of the league and will help us retain the title."
The forward believes that the month-long pre-season campaign has prepared the squad for the long season ahead. The squad, he believes, is competent enough to defend the title.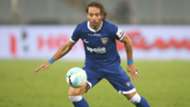 "We have worked very hard. We played four-five games (in pre-season) and we got good results. Our squad is good enough to win the trophy and the boys would like to create a record. We need to help each other (and) hopefully, we can achieve our objectives."
As they prepare to defend the league title, Chennaiyin's backline will have a notable absentee in Henrique Sereno. Veteran defender Inigo Calderon shared his thoughts on the former skipper's absence. 
"We will be missing him on and off the pitch. But we have to move on. Also, now Eli (Sabia) has arrived. He has played here before and so he is not a new man.  That's good for us."
Calderon extended his stay at the South Indian club as he shared Jeje's ambition of defending the title. 
"When I was coming to India they opened the doors for me.  Also this time it is newer and a more complicated challenge as no one has ever won back-to-back titles. At the same time, I was happy with the city and the club. Being away from home, it is important to be happy so I chose to continue. "