NorthEast United
ISL 2018-19: 'The club breathes football' - Eelco Schattorie all praise for Jamshedpur FC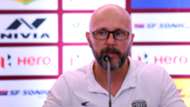 In-form NorthEast United are set to take on Jamshedpur FC in an Indian Super League (ISL) clash on Saturday at Jamshedpur. The visiting team's head coach, Eelco Schattorie was all praise for his opponents ahead of the game. 
He said, "Jamshedpur FC have done well at home. So it's going to be interesting. First of all, I have to give a compliment to the club here. This club really breathes football, I really like the setup here. I think Jamshedpur is similar to us, they like to play good football, they are organised and disciplined.
"They have a very well structured team, a very good midfield. In their defence, I like Tiri a lot."
After four ordinary seasons in the league, NorthEast United have been doing well this season and are on course to reach the play-offs for the very first time in the club's history.
Schattorie has been credited with turning the team's fortunes around. But he chose to shower the praise on his players. "It is not magic actually. This is not something which happens only because of the coach but all the players have to do well. From my side, I work on the team dynamics.
"The players have to work together and work on the organisation of the team. These two things are very important. They are still not playing the way I would like them to play but overall we are in a good position and I hope we can maintain."
On asked if the hectic schedule is hampering the club's performance, the Dutch coach opined, "I think many clubs are having injury problems now and this is not something which happens only in India but all over the world. Playing lots of games over a short time increases the chances of injury. Not only injuries, the long travelling, like if you have to seat in the bus for nine hours you get tired. I am not complaining but this is a fact. And this is for all teams."