Indian Super League
ISL 2018-19: Brilliant, eccentric Eelco Schattorie has grabbed all the headlines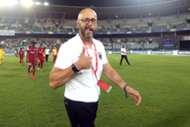 From witty one-liners off the field to passionate shenanigans on the sideline, NorthEast United head coach Eelco Schattorie has been in the news for the right reasons this season. 
The experienced Dutch coach served as an assistant to Avram Grant when the Highlanders were on a sinking ship last season.  But together with Arthur Papas, the Dutch coach has made full use of his upgraded powers and led the charge for the team this time around. His team is sixth on the table with 11 points and a game in hand over the three teams above him. 
Eelco Schattorie has added flavour to the Indian Super League with his attitude and presence. From the Mini Copper-Ferrari remark before the start of the season to his dig at Delhi Dynamos' league position, the Dutchman has been as audacious as he has been cheeky when speaking to the media. And he has neither minced his words nor sugar-coated it to project the image of a nice guy. Schattorie is an honest coach who adopts a no-nonsense policy.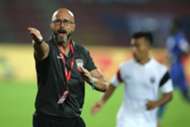 'I cannot make a Ferrari from a Mini-Cooper'
"What happens on the field is a process. Since I am in India I would like to take an example. Taj Mahal was not built in a day and if you want to build something, it takes time. We will work together to make the best out of the season," the Dutchman said before the start of the season. He also added,
" I am not the person who likes to hang back and play on the counter. I like to attack and dominate. But to dominate you must have quality. You cannot make from a Mini Cooper a Ferrari."
And he has stuck to his words as the Highlanders have looked a completely different outfit compared to their torrid outings last season. NorthEast United's games aren't snoozefests anymore as they have always attempted to take the game to their opponents and so far, it has been a delight to watch.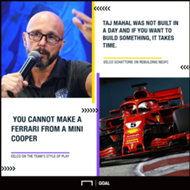 Last season's NorthEast United would have struggled against FC Goa on paper but Schattorie's team is fearless. He demands a lot from his team and prefers a fighting loss to a lucky win.
"For me, if I lose but we play a really good game creating a lot of chances, then I am happier than when we win due to a lucky goal or something." A lot of managers will be gladly celebrating a lucky goal but not Eelco!
'Mumbai City players were dying on the field'
Speaking out against referees can get coaches fined. Complaining about the opposition's players sometimes puts the coaches in a bad light but Schattorie was the least bothered when he openly criticised Mumbai City's time-wasting against NorthEast United.
"Their time-wasting really annoyed me, it was like they were dying on the field. I remember from my time at the I-League how Mumbai (FC) used to waste time and it looks like they have kept up the tradition here."
Before Highlanders' match against Mumbai City, Eelco Schattorie also did something that no other coach has done in the history of ISL - he criticised Star Sports' punditry. Then he picked up a fight with Matias MIrabaje in the closing stages of the match, 
'Delhi Dynamos would be in top three if I were the coach!'
Eelco Schattorie recently revealed that NorthEast United had to pull a few strings to appoint him as the head coach. We all should be glad that he was finally appointed because it's been so much fun. 
In a world where everybody is trying hard to pretend to be extremely sweet to each other, Schattorie has brought mind games and sly digs onto the table. His best game so far were his words before the game against Delhi Dynamos.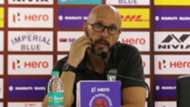 "Delhi, with the team they have, being low on the table surprises me. I would even dare to say that if I had this team, we will play (be in) top three. It sounds arrogant. I think they are a really good team. A good mix of foreigners and Indian players."
For sure, his comments could backfire if his team stops churning out wins but for now, the brilliant yet eccentric Eelco Schattorie is calling the shots.