Indian Super League
ISL 2018-19: Chennaiyin FC's John Gregory - A lot of respect to Bengaluru FC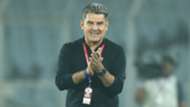 Chennaiyin FC begin their Indian Super League (ISL) 2018-19 campaign against Bengaluru FC in a repeat of the final of season 4, at the very venue - the Sree Kanteerava stadium in Bengaluru, on Sunday evening.
"We've had the ability to come here and win on the two occasions we played here. So it evokes good memories for us. In that respect it's been a lucky ground for us, although it's only two matches," recalled John Gregory, head coach of the Marina Machans .
"A lot of respect for BFC for what they have achieved in the first year. It was outstanding. At the same time, we are not afraid of coming here. It throws up a fantastic opening game for both teams," he continued.
"They would not have fond memories of March 17th this year (2018) and they will be obviously be looking to correct that score."
The Englishman went on to state that his side's style of play is not something that will see a lot of change given that they will be defending their title.

"My players aren't under any pressure whatsoever," he said. "I always encourage them to relax and enjoy playing football as much as they can. Obviously, when you are winning matches, you enjoy that much more and they certainly enjoyed last season and the rewards that came, but there was a lot of hard work that went into winning the title last season. Our style won't change that much."
Gregory took a moment to speak of the impact the new players at the club have had on last season's squad.
"We've got a couple of additions this season - a couple of foreign players who are obviously going to try and force their way in the team and put players under pressure that are ahead of them. We have also signed five or six Indian players who are also going to be fighting for places this season. I am delighted with my squad, with the recruitment that we made in the summer," he asserted.