Pune City v Bengaluru
ISL 2018-19: Bengaluru's Carles Cuadrat - Home or away, we want to win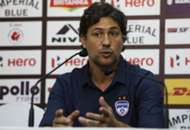 Carles Cuadrat has played down Miguel Portugal's comment that Bengaluru FC are the best team in the Indian Super League (ISL).
"He (Miguel Portugal) told me the same thing last week in Madrid. But maybe it is because he wants to make us weak because you feel you are superior (laughs). But I don't think that. I think that we are a group which is very competitive.
"To be very competitive is very important for me in football. We have achieved good results (ISL final) last season and this is the target for this season too, to get to the last rounds of the competition. Of course, all the teams in the ISL have made very good transfers. Lots of new players. And interesting options.
"After three rounds in the competition, we are just knowing each other, seeing what we are feeling about the other teams. We have seen some very nice games of some of the teams which have improved like Jamshedpur. I think Jamshedpur is playing very nice football.
"Even Kerala, even though they drew last night (Saturday), they have shown they want to fight for the competition. I think it is too early to say this (Bengaluru FC) is the better team playing football. We are only starting," stated the former assistant to Albert Roca. 
Bengaluru have got a good record against Pune as they are yet to get beaten by the Stallions. 
"I am not thinking about that (head-to-head record). I think it is too soon in the season to think about those questions since we have just started. It is true all the games against Pune have been really nice games with a lot of good football. We have an offensive squad and Pune also have very talented players in attack. So for both teams, we are not in a moment where we are fighting for the playoffs. We are in a more relaxed moment so that means that tomorrow (Sunday) we can see a nice show, hopefully."
The gaffer informed that there are no injuries and the whole squad is available for selection. He also mentioned that the AFC Cup and ISL are two very different competitions with comparatively lower risks in the ISL.  
"It's a completely different competition - the AFC Cup. Because any goal you get away from home can be very important because of the double value (away goal rule). Now, we are in a regular league and we know the objective is to be in the top four. So it makes things a little different with us not taking too many risks during the game and thinking about the many months in the competition.
"For example in the ISL this year, there are a lot of results which are changing with a goal in the last minutes. Because when one team is going down and has to try to get some points, they go in ' crazy attacking' mode and sometimes they get that (a goal).  So it is interesting to see how the league is going until now with a lot of equality and with a lot of results changing in the last minute."
The 49-year old manager is adamant to return to winning ways after a draw against Jamshedpur and he believes that playing away from home would not be a factor. 
"We have had good success in the two matches we have played. We were very close to having six points after two games and only the last action (a late goal) prevents us from coming here without them. Sometimes these kinds of things make the team grow up. This kind of situations gives you a lesson for the next game.
"At this point, I have to be honest, as a team, we want to win at any place be it at home or outside (away). It does not make a big difference. Our offensive mentality is such that it does not matter if we are playing locally (at home) or away," concluded Cuadrat.