Indian Super League
ISL 2017: Miguel Angel Portugal praises NorthEast United custodian TP Rehenesh after his side's 2-0 loss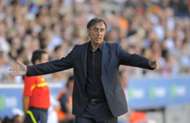 Delhi Dynamos manager Miguel Angel Portugal was critical of the intensity displayed by his side in their 2-0 loss to NorthEast United FC at home.
The Spaniard was happy with the support showed by the home fans but was less than satisfied with the performances of his men.
"I think the atmosphere was really good. The Delhi fans I think were of a high level, but the team, for me, wasn't at a high level today. When we tried to play from the back, we found it very difficult," he said at the post-match press conference.
"In Spain, this is not how we played from the back, but we have good players. For my team, it was not possible today to come back in the game. We needed to shoot and go for the goal," said the Dynamos coach.
The 62-year-old was full of praise for NorthEast custodian TP Rehenesh who made a couple of brilliant saves to deny Delhi's attackers.
"The opponents had fewer attempts than us," he remarked.
"We had more attempts, but I think that the opponent goalkeeper (Rehenesh) was the best player of the match," the former Real Madrid B team manager added.
The Dynamos supremo defended the performance of his own goalkeeper Albino Gomes though he admitted that the custodian needs to improve.
"We have a lot of confidence in Albino. He is one of the best goalkeepers in India, but he must improve his performance. But I have confidence in him, and think he will do well," Portugal said in conclusion.