Indian Super League
ISL 2017: Co-owner Abhishek Bachchan has invested emotionally and physically in Chennaiyin FC
Ashwin Muralidharan (@AshwinMNair10)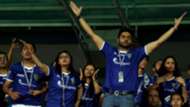 Chennaiyin FC co-owner Abhishek Bachchan rarely misses an Indian Super League (ISL) game that involves his team and is a very visible presence in the stands, cheering his team on with gusto and passion. 
But the Bollywood star is not just a cheerleader for the Supermachans. In fact, he is actively involved in the running of the club and, in his own words, has 'invested' physically and emotionally in the club. 
And we're not just talking about the senior team's games. As Goal  sat down with the actor to chat, he is interrupted by a message that says Chennaiyin FC's U15 side had just scored a 90th minute equaliser. A relieved Abhishek enquires who the goalscorer was and then turns to chat to us, showing the level of detail and commitment he has displayed towards his team. 
Abhishek pointed out that Vita Dani (also a co-owner of Chennaiyin FC) and himself make it a point to attend all the games involving the team and try work their schedules around it.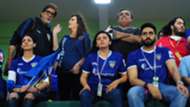 "Vita and I, I don't think there ever has been a match we have missed. If I'm not there, Vita is there or vice versa. We try to work our schedules around it," he said. "It is hard at times, but we make an effort.
"Be it my Kabaddi franchise (Jaipur Pink Panthers) or my football franchise. So when the players see this, they think the bosses are heavily involved in this and we have to do it for them.
"The fans react to it as well. It is about winning and being involved with the project. I don't know any other way to work. Passion is in our blood, as we say (laughs)." 
Abhishek also regularly interacts with the players and is even known to giving them pep talks on matchdays and is seen celebrating / commiserating with the fans after every game. It is just the way he likes to work, asserts the actor. 
"That's the only way I know to do business man. I'm very passionate about what I do. If I believe in something, I will do it wholeheartedly. I don't look upon this as an oppotunity to come to the stadium and be photographed with the fans.
"It is about being part of the family. I'm fully invested in the team – not just financially, but emotionally as well."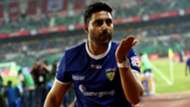 While many owners take a backseat and delegates the operations to others while overseeing the development of the team, Abhishek is of a different mould. He takes pleasure in being heavily involved and has played a huge role in the franchise's consistent show in the ISL, apart from one blip of a season last year. Coupled with the success of his Kabaddi franchise as well, it seems as if Abhishek has found his niche as a 'sports entrepreneur'. 
Abhishek says, "I'm not very good at delegating duties. If I'm going to do something – be it films or sports entrepreneurship, I need to do it wholeheartedly. It just matters to me. I care about what the boys are eating for lunch. I care about how their recovery is going. It bothers me. It is not just the players – the staff and the management – it all matters for me. These are all integral parts of our team."
Chennaiyin FC have made a very good start to the season after last year's disappointment and Abhishek roared his approval, pointing out that the squad's characteristics are in resonance with the vision the management has for the team. 
"We want to be known for sportsmansip, grit and character. So far, we're over a month into the league and I think this current squad has shown all three. The first game was our real test. I took a lap around the stadium to thank the fans at half-time, which is very tough to do when you're losing 3-0, in order to get their support. They did so wholeheartedly. 
"And John (Gregory) got a response from the team and we almost nicked a result. That shows character. So far, the squad is embodying what Chennaiyin FC stands for."
"The great thing about our fans is that they are the only fans who don't boo anybody. They are very fair and it shows their class. They engage with the community and that is what our fans are all about," he noted. 
As the talk turns towards grassroots development and the plans the team management has towards that effect, Abhishek takes special pride in pointing out that their youth teams are performing very well in the league and outlines the plan to have top quality infrastructure for them in the future.
"The first step is to set up your youth squads. The U13s, U15s and U18s have been set up and they have been doing well by the grace of god. Hopefully, they will continue to do so. You need to consolidate those teams.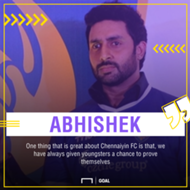 "Obviously, the majority of them are local boys from Tamil Nadu. We want to see them come through the system and break into the senior squad. One thing that is great about us is that, we have always given youngsters a chance to prove themselves," points out Abhishek. 
"Jerry (Lalrinzuala) was the youngest player in the ISL when Marco (Materazzi) gave him his debut last year. Marco debuted (Anirudh) Thapa and this year, (Baoringdao) Bodo was given a chance. One thing about Chennaiyin is that if you're young, that's not a problem. You will get a chance if you're good.
"The emphasis will be on your talent and we will give you the opportunity." 
"Grassroots is something we want to pay attention to it. The next thing is going to be the infrastructure," Abhishek goes on. "We haven't got there yet but we are going to get there. The most important thing was to set things up. That is a while away but we need to consolidate our youth teams first." 
The Bollywood star goes on to highlight the work done by Chennaiyin FC's Scouting and Recruitment team, headed by Chief Technical Officer (CTO) Amoy Ghoshal, in getting the best young players in the club and laying the framework for a successful franchise. 
"The scouting and recruitment team has been very important. We're (owners) involved but do we go into the far reaches of Tamil Nadu and try identify players? No. Amoy, Vita and I sat down within a week of the league finishing last season and tried mapping our strategies for the next season. We work very hard.
"We debate on the players that we need and there is a lot of back and forth that is going on. We have discussions. We have a great team headed by Amoy. We all sit together and spend a lot of time, putting a team together." 
The 41-year-old actor was asked about the refereeing standards in the ISL so far but he refrained from criticising the referees and went on to throw his weight behind them. 
"Life is not fair. I don't doubt the intention of the ISL, the AIFF or the referees. They are human beings and they make mistakes. Football is a fast sport and it is difficult to make decisions. When you get decisions going in your favour, you feel good. Sometimes not.
"It is going to happen. Sometimes fairly and sometimes unfairly. You know, stop moaning about it, pull your socks up and go change the result. That's my attitude.
"We were last in the league during the second season. We fought off the Chennai floods, we were determined to play and win. That's the attitude we want. We just need to get on with the game. That is why I don't have an opinion on refereeing standards.

"The ISL is doing a great job. These are local referees who are getting unbelievable exposure. Everythng is a process. Players, referess and we as team owners are getting experience. We just need to get on with the game."