Indian Super League
ISL 2017 : Albert Roca reveals Johnson injury, tips FC Goa for semi-final spot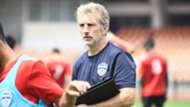 Bengaluru FC head coach Albert Roca does not want his side to get carried away ahead of their game against FC Goa. The ISL newbies have enjoyed a perfect start to their campaign but are now all set to lock horns against the Goan side coached by Spaniard Sergio Lobera. 
Roca lauded the Goan side for their performances in the previous two games and talked about how the teams share a common style of play. 
"FC Goa has a Catalan coach who has been on the same team as me which is FC Barcelona. We have a similar idea of football, also Goa have impressed me more than any other team even in the last game that they lost where they were really unlucky," he said.
Roca even said that he considers the Goan side to be one of the favourites to make the final four of the competition.
"They (Goa) are one of my favourites to make it to the semi-finals," he said.
The Spaniard addressed the difficulties that lie ahead with Bengaluru all set to play three back to back away matches but wants his side to pick up as many points as possible. 
"We have to get used to playing 3 away games, it's going to be tough, we'll try to get points from all the games. Climate affects the game a little, the humidity here is much more here than in Bengaluru," he said. 
Given that both sides play a similar style of football, a feeling of unpredictability does loom in terms of the tactics the teams will adopt tomorrow but Roca said his side would play their natural game and be ready for whatever comes their way. 
"We know what we want to do, we want to be comfortable on the ball, they can play with tactics we won't expect and even do what they did in the first two games and put us in trouble, it's a big challenge but we are ready for anything." 
The coach addressed that defender John Johnson had picked up a knock in training which might see him missing out on tomorrow's game.
"Mmawia (Lalthuammawia Ralte), and Joyner (Lourenco) still have injuries while Dimas Delgado is getting better but for tomorrow he is not ready yet, this morning we had a little problem with John (John Johnson) we're still waiting for his medical report," he said.