Indian Super League
ISL 2017-18: Woeful run of form at home plaguing Mumbai City FC!
Ashwin Muralidharan (@AshwinMNair10)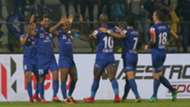 With the ongoing edition of the Indian Super League (ISL) nearing the final leg of its group stage, none of the top four from the previous season is in the playoff spots. ATK and Delhi Dynamos are out of the reckoning for one while Kerala Blasters and Mumbai City FC (last year's top two teams after the group stages) are still in with a fighting chance, albeit a slim one.
The Mumbai-based side understandably retained Alexandre Guimaraes, their Costa Rican coach, after enjoying a wonderful season and was expected to kick-on this season. 
But they find themselves battling to stay in the race for the playoff spots with just three games remaining in the league stage. The Ranbir Kapoor co-owned side have had a poor season and their home form has been a major disappointment this time around. 
If one takes a close look at their home games this season, they started very well but then just lost their way, falling to four consecutive defeats of late. 11 of Mumbai's 20 points have come from seven away games while eight home games have produced just the nine points. 
Mumbai City have a distinct advantage when it comes to their home ground when compared to most other teams in the ISL. The Mumbai Football Arena is a proper football ground, in the sense that it is not a multi-purpose stadium being used for footballing purposes as is the case with most other teams in the league. 
At the Mumbai Football Arena, the spectators are extremely close to the pitch and hence are able to build an intimidating atmosphere for the away teams. 
In the 2016 season, The Islanders utilised the advantage and lost just the two games in seven home matches as they finished top of the table after the group stages. But this season, the number of losses at home already stands at five and there is one more game to go. 
It is surprising to an extent because the start to their 2017-18 home season was very good. They won three out of their first four home games, beating FC Goa, Chennaiyin FC and Delhi Dynamos before losing to ATK. But there was an element of luck in that run as well with them being gifted a penalty against Chennaiyin FC and a legitimate goal being ruled out for FC Goa.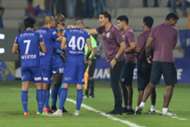 But the team's defensive organisation at home, especially, came for praise as they conceded just the two goals in those four games. The pitch at the Mumbai Football Arena, narrower than most other grounds in the country, also played to Guimaraes' strengths as the Islanders gained a miserly reputation in defence. It also helped him cover his team's obvious weakness in the full-back department by playing a three-man defence which is tougher to stretch in narrow grounds. 
But the next four games at their home can only be termed as 'disastrous' and ultimately pushed them into a corner when it came to qualifying for the play-offs. They lost to Kerala Blasters, albeit thanks to an atrocious piece of refereeing, and were also beaten by Bengaluru FC, Jamshedpur FC and local rivals FC Pune City. 
The likes of Raju Gaikwad and Mehrajuddin Wadoo have failed to convince with the former's errors responsible for quite a few goals they shipped. Sehnaj Singh has also failed to impress in midfield whenever he has been able to play, with him fluttering between suspensions and the injury-table otherwise. With Lucian Goian suffering a dip in form, the defence lost its anchor and the team's performances suffered. 
At any rate, the fact remains Mumbai City's woeful run of form at home has pushed them to such a situation. Now, it could be a case of not being able to handle the pressure of playing at home or just poor defensive organisation. Whatever it is, it is high time Guimaraes addressed them.