Indian Super League
ISL 2017-18: The table doesn't lie – NorthEast United just cannot score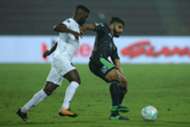 NorthEast United have scored a mere 10 goals this season from 16 matches in the Indian Super League (ISL). Despite creating many scoring opportunities, seeing more of the ball and more, the players haven't been able to apply the finishing touch.
Before the start of the season, you could see that NorthEast United had an issue upfront. Their first game was against Jamshedpur FC where despite dominating the game, they couldn't score.
Former coach Joao de Deus famously stated that the top scorer of the ISL would be from his team. The Portuguese coach couldn't be more wrong. Avram Grant came in and got them two victories. The team played much better but once again continued the same trend.
On Saturday evening, Kerala Blasters were up against a side which had eight Indian players. Still David James' men couldn't dominate the proceedings and they didn't need to. NorthEast would pass the ball but when it came to the final shot, they always scupper the chance.
Among all the ISL teams, they have suffered the most number of defeats – 11. There is a reason why the club finds itself in this position.
The ISL's 'no relegation' rule has allowed certain franchises to probably take things for granted and make up numbers. It doesn't seem that there is a burning ambition to win the title, or make the cut for the play-offs or even improve.
Although the club management can put the blame of de Deus, it was more a case of the overall personnel assembled. Even Grant couldn't inspire a mediocre team to punch above their weight on a consistent basis.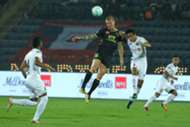 They spent the least amount on Indian players at the draft. A few players from the I-League second division, others who were the third or fourth choice in their positions at their previous club are those who comprised the players picked up by NorthEast United.
In a squad of 25 players with several chops and changes, the club only has four goal scorers. No defender or midfielder has found the back of the net.
For the last three seasons, at least the fans in the north-east took interest in the ISL. This time around the attendances have been awful which means that the club wouldn't earn enough revenue through gate receipts either.
NorthEast United have been a colossal disappointment on and off the field. Some serious introspection needs to be undertaken by the club management. Certainly footballing wise, whoever has been their advisor or been involved, the club needs to get rid of these 'experts' which has seen the club flop all over.
Failure for the fourth consecutive season and NorthEast United doesn't paint a rosy picture for football in the north-eastern region. Whether they like it or not, it's the Aizawls, Shillong Lajongs and NEROCAS who represent the north-eastern football not the John Abraham co-owned side.