Indian Super League
ISL 2017-18: John Gregory - Built our team around a very strong defence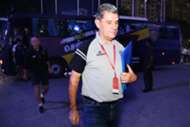 Placed fourth in the Indian Super League (ISL) standings, Chennaiyin FC's head coach John Gregory hopes that the competition for the playoff spots will spur his side against FC Goa on Thursday. 

The 2015 winners have come under the scanner after failing to impress against teams from the bottom-half. 
"We tend to play better against teams in the top half of the table. We have played some of our best football and have had some of our victories against Bengaluru, Jamshedpur and Pune. So, we've played very well on the road and not played well against the bottom-placed teams as we would have liked to. We lost in NorthEast and drew both games against Delhi and also drew against Kerala when they were in a much lower position," opined John Gregory.

He added, "We haven't played well against the lesser teams as such but have managed to perform well against the top teams in some of the big matches. We managed to beat ATK for the first time at home and both times against Pune. We know how big it is (the match) and how important it is for both the teams. We need to get something from this game obviously. We will be going for three points and cannot afford to slip up. Teams like Jamshedpur in particular and Kerala have managed to get their seasons back on track."

FC Goa and Chennaiyin have had memorable matches, including the 2015 final where the Abhishek Bachchan co-owned side emerged victorious 3-2 at the very same venue. "There have been some great games between these two teams over the years but it is a very important match for us against Goa. There have always been goals between these two teams and I hope there will be more tomorrow (Thursday)and we get more than them and win," said the former Crawley Town manager.

The former Aston Villa boss also revealed that the earlier fixture against Goa at home was a major learning curve for his side. The Gaurs already had scored three in the first half but Chennaiyin came out strong in the second period to end the game 3-2.

"I started with a system that didn't suit us in the first half. We changed that and came back as the stronger team in the second. After that 45 minutes, we went on a very good run, winning lots of games and stacking up the points. It was a big lesson, from a disastrous 45 minutes we went on to have a good 5-6 games which took us to the top-four positions and we have been there ever since."

"After that game, Goa continued their good opening form and only recently in the last month they have stuttered, much like us. Both teams want to get into the top four but Goa have games in hand and they are playing catch-up. We are undergoing a very difficult period. We have played 5 matches in 17 days which is difficult," he said.

Chennaiyin's USP is their defensive unit and Gregory agreed that it is their backline which has held the team in good stead. "We have built our team around a very strong defence. We got three foreigners (Inigo Calderon, Mailson Alves and Henrique Sereno) to play in the defence and they have been rock solid for us this season. We have won a lot of games by single goals and lot of the credit goes to them."


"They are probably a little bit more exciting to watch than we are. Goa will want to prove that they are a good attacking team and we would like to prove that we're a good defensive team. One of them has got to win I suppose and let's just hope that it is us," he commented.
Furthermore, he praised his players. "Inigo Calderon and Jerry (Lalrinzuala) have been superb in the full-back roles. Obviously with Henrique (Sereno) suspended in the last game, we missed him. He leads by example and plays like a leader and that is why he wears the armband."

There were also positive comments on how league leaders Bengaluru FC did their recruitment in the summer and how that has helped them so far. "Bengaluru have really come into their own in the last few matches. They built the squad well and they have spent well in bringing the right kind of talent. Bengaluru have been able to rotate their team and have the right bench strength. For example, if you take out Lanza (Manuel Lanzarote) and Coro (Ferran Corominas) out of FC Goa, you will notice that they are missing them"

"The ISL has moved forward in terms of ability. The teams are so much better technically than the previous three years. I really think the quality of the ISL has gone up. For a team like Bengaluru FC to come in and do so well in the first season, (it) augurs well for Indian football," he concluded.