Indian Super League
ISL 2017-18: Casual defending coupled with over confidence led to FC Goa's exit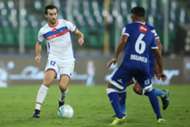 There was a point during the pre-match media briefing when FC Goa coach Sergio Lobera was asked if they would change their approach or look to do something different given that they had scored just once against Chennaiyin FC in close to 225 minutes of football since taking the 3-0 lead in the first half in their opening game of the season.
"We are going to keep playing our brand of football because I think that makes us the strongest," was his response.
Yes, Goa played in the same vein and drew blanks against a well-drilled outfit like Chennaiyin FC. There was no change in their strategy and once again the chinks in their defence were left exposed.
Despite throwing several players in attack in the opening 20 minutes, they struggled to breach the Super Machans' defence. In fact, they could have conceded in the 22nd minute when from a Gregory Nelson free-kick, Jeje headed wide despite being unmarked inside the box.
The lesson wasn't learnt. Four minutes later, neither Chinglensana Singh nor Sergio Juste had the presence of mind to stick close to Jeje as he headed home from close range. With Chennaiyin playing just a single striker upfront, the least you would expect from your centre-backs is to mark the player well.
Three minutes later, they committed the same error only this time it was Dhanpal Ganesh who put his head to good use. Throughout the season, Lobera has been questioned about their poor defence and the former Las Palmas coach has replied that his team is attack-minded, as if it was an excuse to commit school-boy errors.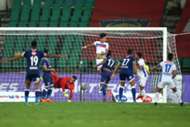 Having a good goalkeeper in the squad is imperative. Lobera claimed that Laxmikant Kattimani was the best in the Indian Super League (ISL). Thereafter, he handed a chance to Naveen Kumar. For next season, they do not have Naveen either and are stuck with Kattimani for another two seasons!
Interestingly, Lobera's attack too let him down. Hugo Boumous looked lively in the opening minutes but the experienced Lanzarote was struggling against a 19-year-old Jerry Lalrinzuala, the latter looked to play centrally thereafter and there was no width on offer on the right. On several occasions, Lanzarote got in the way of Boumous, who was their best creative outlet, completing five successful dribbles over the course of the game. 
Over the two legs of the play-offs, Lanzarote and Ferran Corominas have been nothing short of being plain bad. It must also be noted that Goa have still not yet sorted their future especially with other ISL clubs keen on roping the two Spaniards. Their poor planning is all the more apparent that they allowed Delhi Dynamos to sneak in and sign Narayan Das only to wake up and request the Delhi outfit to negotiate!
The usually reliably Ahmed Jahouh was dispossessed on several occasions by the likes of Raphael Augusto, Bikramjit Singh and Francisco Fernandes.
In ISL season one, Chennaiyin FC under Marco Materazzi would often go with the philosophy of scoring one more than the opponent. Although they topped the league standings, scored the most number of goals but had the second worst defence. Eventually they were knocked out by a team which scored the least and had the best rearguard.
Probably that serves as a lesson to FC Goa and Sergio Lobera.