Manchester City
Is Pep Guardiola's message finally getting through to £47.5m man John Stones?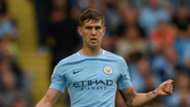 For 12 months, a £47.5 million price tag appeared to weigh heavy on the shoulders of John Stones.
Acquired by Manchester City in a deal which made him the second-most expensive defender in history at the time – behind only David Luiz – the England international appeared all too aware of the pedestal he had been thrust upon.
Man City 9/1 to beat Chelsea 1-0
Stones had built a reputation as a ball-playing centre-half after graduating out of the youth ranks at Barnsley and proving himself in the Premier League at Everton.
To many, he was the epitome of the modern day defender and the standard-bearer for club and country.
Roy Hodgson handed him his England debut two days after his 20th birthday, with that outing expected to be the first of many as he nailed down a position in what had been a rather problematic area since the heady days of Rio Ferdinand, John Terry and the 'Golden Generation'.
A lack of experience worked against him, though, with Stones taking on the role of a square peg being forced into a round hole as he was often asked to occupy a right-back berth by the Toffees and Three Lions.
Here was a much-heralded talent being forced to learn on the job at the very highest level when he should have been given the time and support in which to hone his skills in the position where he was quite clearly going to end up.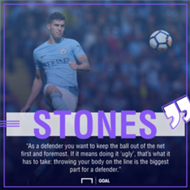 To be fair to Stones he never complained, with any experience considered to be of benefit to an emerging talent.
By the summer of 2016, City had seen enough to convince them that another call was worth making to Sheikh Mansour requesting the necessary funds to secure the signature of a man being widely tipped for the top.
The arrival of Pep Guardiola had been confirmed a few months prior to the Stones deal, with the Catalan giving his blessing to the purchase of a player who appeared to fit perfectly into his philosophy of football.
Nobody was expecting the reinvention of tiki-taka at the Etihad Stadium, but City's new boss was never going to take the reins and invest in a 'kick it and head it' centre-half whose only job was to put his body on the line for the good of the collective cause.
In many ways, Guardiola appeared to be the perfect boss to further unlock Stones' potential.
Under his tutelage, a developing defender would be offered the guidance to bring the best out of him, with the freedom being given to express himself and play to his apparent strengths – with City also eager to find a mentor figure alongside him.
Stones, though, had already faced questions at that stage regarding his reluctance to stray from the qualities which had carried him so far.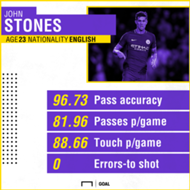 There was a feeling that he often over-played, with the defensive mantra of 'stick it in row Z' seemingly not part of his footballing vocabulary, despite claims to the contrary.
He said in 2016: "As a defender you want to keep the ball out of the net first and foremost. If it means doing it 'ugly', that's what it has to take: throwing your body on the line is the biggest part for a defender."
Mistakes could be forgiven as a youngster making his way in the game, even under the brightest of spotlights at a club of City's stature, but there needed to be some indication that lessons were being learned and progress being made.
Many struggled to see such development, with former Everton colleague Phil Neville among those to question Stones' critics prior to his big-money move.
He said: "He has been heavily criticised and a lot of it has been absolutely scandalous and personal – it's as if we are trying to destroy the kid. Some of the criticism he's had has been scandalous from ex-players, who didn't have half the ability he had. I'm talking about players that couldn't pass the ball or control it in tight spots where you have to have composure."
The questions continued throughout a testing debut campaign at the Etihad Stadium, with United legend Eric Cantona saying that Stones was so expensive due to the "fully equipped trailer that he pulls behind him when he plays", while Tony Adams branded him "over-hyped and over-rated".
There were, however, as many supporters as there were detractors and the 23-year-old quickly learned to turn a deaf ear to his critics, even if he was prepared to admit that some comments "hurt".
2 - John Stones is the first Man City defender to net a brace in the Champions League. Value. pic.twitter.com/hLcIPwc7uu

— OptaJoe (@OptaJoe) September 13, 2017
Maybe that is what it took to narrow his focus, or maybe he is just merely a year older and better equipped to handle the demands being placed on him.
Maybe City are just a better team.
Whatever the reason, Stones has looked more like the player we were all led to believe he would be in 2017-18, with his form improving as Guardiola's message finally gets through.
The challenge for Stones has always been to find the right balance between hit and hope, and that blend is starting to present itself.
As part of a title-chasing City team which has conceded just twice in five Premier League fixtures to date, Stones is taking more touches per game than he did in 2016-17, is playing more passes, with better accuracy, losing possession on fewer occasions and is yet to make an error leading to an opposition shot on goal.
He also impressed in a first Champions League outing of the season, making more passes than any other City player in a 4-0 victory over Feyenoord - completing 131 of 134 efforts while also netting two goals.
His numbers are down, per 90 minutes, in more defensive areas such as recoveries, clearances and duels won, but that is being countered by his overall effectiveness – after all, Guardiola's side have not had too much serious defending to do so far.
It may only be late-September, but City are already top of the league and with Stones on an upward curve, the future appears to bright once more for the Blues and the 'Barnsley Beckenbauer'.