Indian Super League
Indian Super League: Six Indians to feature in starting eleven
While there have been calls to increase the number of Indian players in the Indian Super League (ISL), franchises have been informed by the organisers that the number of foreign players in the starting eleven has been cut from six to five, Goal can confirm.
In a series of meetings held with various franchises, the clubs have been notified that Indians would now form the major chunk of the starting eleven with as many as six making the cut.
It must be noted that India coach Stephen Constantine had mentioned earlier of giving more Indian players an opportunity to play in the ISL and it seems his advice has been put into action.
ISL to get recognition from AFC
For the first three editions of the ISL, only five Indian players featured in the playing eleven while as many as 11 foreigners could be signed by a franchise as part of their squad.
Meanwhile, every club can sign as many as 17 Indian (earlier the number was 14) and eight foreign players with the total budget amounting to 18 crores INR. Interestingly, should a club choose (optional) to sign a marquee player, his wages will not be included in the salary cap provided the league body considers him to be a star name. The clubs have to sign at least two developmental players under the age of 21 though many of the franchises have voiced their concern to raise the cut-off to Under-23.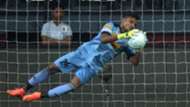 "Only two Indian players can be retained by a franchise is what has been communicated to us informally," informed an ISL club official. 
Former Chennaiyin FC midfielder Elano named interim Santos boss
The new franchises are expected to be announced in a few days after the high profile meeting in Kuala Lumpur, Malaysia on June 7.
The Indian player draft is tentatively set for the first or second week of July where players who haven't been retained by franchises as well as those who didn't feature in the competition last year will feature.