India U18
Indian Football: Kushal Das - D license coaching course will be available in Hindi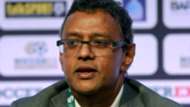 In what has to be an important development with regards to coach education programme in India, the All India Football Federation (AIFF) are to introduce 'D' coaching license in Hindi language.
Currently, the AIFF only conducts its coaching courses in English, a language which is spoken by close to 10-to-20 per cent of the total population.
"The 'D' coaching license course will start in Hindi. It is very clear to us that we have to be vernacular. Hindi is the starting point. Eventually the plan is to introduce the course in more languages like a Bengalli or a a Malayalam," Kushal Das, the AIFF general secretary, informed Goal.
Ramos: Ronaldo has to run as much as everyone else at Real Madrid
The AIFF is also in the process of indentifying a select group of Indian coaches and groom them to be among the best in the business. This was discussed at a high profile meeting earlier this week at AIFF president's Praful Patel's residence in Mumbai by Das and Abhishek Yadav, India Under-17 team's COO.
In the I-League, there are eight Indian coaches while they qualify only as assistant coaches in the Indian Super League (ISL) teams. Questioned if Indian coaches will forever be considered or be branded an assistant, Das answered in the negative.
"This is what we have been discussing. We must get our Indian coaches up to the level. We have cooperation agreements with the French, German and Japanese Football Associations. We want to start an exchange programme.
"We are in the process of identifying 10-to-15 young Indian coaches who understand the modern philosophy. We cannot only rely on foreign coaches," he stated.
Conte: Victor Moses' talent was easy to spot
With India appointing an Indian technical director in Savio Madeira, Das highlighted that more and more Indians must fill up technical roles at the AIFF.
"Savio is a fantastic person. He was the assistant coach of India under Bob Houghton. I gave him the opportunity to be the head coach and his knowledge of the game is very good. He has been handling coach education for long. We cannot always have a foreign technical director. No country which is developed in football does that. They may have one foreign possibly to be the national coach. However, more and more roles has to be eventually filled up by Indian coaches," said Das.