U17 World Cup
India U-17 coach Luis Norton: In football, there are no impossible missions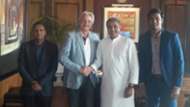 India will play their FIFA U-17 World Cup group games against USA, Colombia and Ghana as a result of the official draw that took place on Friday in Mumbai. Speaking to the press after the game, the head coach of India Colts Luis Norton expressed hope for the hosts and how his team are ready to challenge their group A members.
"We're working for a victory. In football there are no impossible missions. Our opponents are very strong with experience. We are going to fight every moment, for the results." said Norton,
India kick off the mega-event on October 6 against USA. "They work very well. They are doing a fantastic job for 20 years. They have experience, which is a very important in this competition." Norton commented on USA.
Luis Norton de Matos - The man who launched Victor Lindelof's career
Colombia and Ghana are the two other teams India will come up against. Coach Norton revealed his admiration for his group A opponents. "Colombia is very strong in South America. Ghana is a tradition, always a strong team. Ghana and Mali are the two best African teams in this tournament."
He was cautious not to name a difficult opponent. "I'm not afraid. We're going to fight very hard for this.They play different types of football. South American team Colombia are very difficult. We're going to prepare every game to win and we think we can win. I cant tell you which is the best group or best team because every game is different."
Also read | Hosts India in Group A along with USA, Colombia and Ghana
The Portuguese praised his squad, going as far as to say they have the potential to put up a fight against any opponent. "It is very important to show that these Indian players can play good football and with more time to develop, they can fight against any team in the world."
As Goal had earlier revealed, India are set to travel to US, Mexico and USA as part of their preparations ahead of the World Cup and Luis Norton believes playing such quality teams will help the hosts.
"We're going to work very hard. We will watch videos of other teams. There is a tournament in Mexico with Colombia and Chile.
"I don't want to give excuses. We work very hard to be competitive and at the end of each game, we must be proud."
Team Profile | Know India's first opponent: USA
The India Colts coach also rallied the supporters to turn up in huge numbers to support the host nation.
"The important thing is to play with 11 players on the field and a 12th player..the supporters. If the people support the team and are enthusiastic, they can play with passion and soul more. I hope the young people in India come and watch."
FIFA U-17 World Cup team profile: INDIA
AIFF president Praful Patel also spoke to the press at the event and had a few words to share regarding the attendance during India's games.
"We will ensure that all the games in which India play have very good audience. We hope that they get the encouragement and support of the fans." said Patel.
"We discussed this with the government and we jointly are going to ensure that maximum number of schools and colleges participate in viewing the games. I am sure wherever India are playing , there will be a lot of following and support for India."
Patel also praised the spirit in the camp. "The players are happy, they are very excited. We don't interfere in team selection and how they prepare. We can tell you that the mindset of players is happy and positive and that is equally important.  They are happy, enthusiastic and confident."