Nigeria
'Incumbent Pinnick has an edge' - John Obuh's verdict on NFF presidential election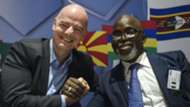 Incumbent president Amaju Pinnick has an edge going into Thursday's Nigeria Football Federation presidential election, according to former Flying Eagles coach John Obuh.
The Delta native was brought into power after emerging winner of the last election that was held on September 30, 2014.
And in a bid for a second term, Pinnick goes head-to-head with former president Aminu Maigari, ex-NFF general secretary Taiwo Ogunjobi and the relatively unknown Chinedu Okoye in Katsina.
Obuh feels the Caf vice president's 'power of the incumbent' might just make him too good for other aspirants.
"They are all qualified to become the Nigerian Football Federation president and I just want to believe that the election will be free and fair," Obuh told Goal.
"It's just that the incumbent, Pinnick definitely will have an edge because he has the power of the incumbent. But you never can say it can just go either way."
Pinnick's last days at the helms of the country's football affair was marred with controversy as he fought to reclaim his post from 2014 election rival Chris Giwa who took over controversially while he away on Fifa World Cup duty in Russia.
The impasse, later calmed by the country's presidency, culminated in the 2018 Nigerian Professional Football League ending abruptly.
"One doesn't have to blame him for that, he wasn't the one that stopped the NPFL from not finishing," the former Kwara United coach continued.
"It was clear that there was a lot of legal controversies as regards to his position so you cannot put it on him as a president."
On the eligibility of Maigari who was impeached prior to Pinnick's reign, Obuh says: "People's opinion will not make any difference anymore as long as he's been given a clean bill for him to contest.
"The electorate have already given him the opportunity to contest."