Africa Cup of Nations
ICYMI AFCON Day 17: The Stallions grab bronze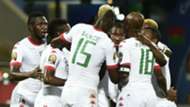 On Saturday evening the penultimate game of the African Cup of Nations (Afcon) saw two wounded giants of Africa in action. Both Ghana and Burkina Faso had come off bruising encounters and the bronze medal was a little more than a consolation prize.
The opening stanza was an open affair as both teams created chances, although, the Black Stars had the better chances of the first half. Ghana's best chance of the half came in the 25th minute when a goalmouth scramble saw Schalke forward Bernard Tekpetey's shot cannon of the woodwork before Burkina Faso goalkeeper Herve Koffi cleared the danger. Minutes later Koffi was called into action again as he parried away a dangerous Ghanaian free kick.
FINAL PREVIEW: E gypt vs Cameroon
As the half time whistle approached the Burkinabe slowly got back into the game. Prejuce Nakoulma had the Stallions best chance of the half. But the Turkish based attacker's effort left much to be desired after making a great run down the flank. Despite a plethora of chances both teams went into the break deadlocked.
The second half at the Stade Port-Gentil saw more of the same as both teams created opportunities but lacked the execution. Ghana's Tekpetey had another chance at goal. Again the 19-year-old could not get his name on the scoresheet as his explosive header went over the bar. Burkina Faso's introduction of Cyrille Bayala seemed to spur the Burkinabe on. The Moldovan-based keeper brought out a superb save from the Ghanaian goalkeeper. With only two minutes left in the game Alain Traore dashed the hopes of Avram Grants' men. The Turkish based footballer saw his stunning free kick rifle into the Ghanaian net.
Gyan decision may have ended Grant's Ghana tenure
Ghana threw men forward in search of the equaliser but it was a little too late as the final whistle blew. The Burkinabe grabbed a well-deserved bronze medal while Ghana were left to rue their mistakes.