Internazionale
Icardi: Inter-bound De Vrij giving away a penalty was destiny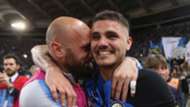 Mauro Icardi said it was "destiny" that possible future Inter team-mate Stefan de Vrij gave away a critical penalty that helped Inter come from behind to win at Lazio and seal Champions League qualification.
De Vrij has confirmed he is leaving Lazio at the end of the season, with Inter expected to announce his signing on a free transfer as the defender is out of contract.
Lazio needed only a point to return to the Champions League for the first time in 10 years , but the hosts collapsed in spectacular fashion late on at the Stadio Olimpico on Sunday.
De Vrij rashly dived in on Icardi to concede a penalty converted by the striker, with Matias Vecino heading home the winner three minutes later - Lazio captain Senad Lulic dismissed for a second yellow card between the goals.
Icardi and De Vrij could be team-mates next season but the Inter captain denied there was anything suspicious about the foul from the Netherlands international.
"It was destiny. All players are professionals, I don't think he fouled me on purpose," Icardi said to Mediaset Premium. "He tried to stop me scoring, it was just destiny.
"We'll certainly try to improve, because a side like Inter cannot afford to be so inconsistent. That's the first thing we need to sort out. We had a great start to the season, then there was a collapse.
"We put in these performances that are either fantastic or terrible. We must try to find a middle ground."
Lazio coach Simone Inzaghi refused to accept De Vrij should've been benched for the match, which scuppered Lazio's chance of Champions League in 2018-19.
"I would play him again, as he had a good game. It's wrong to blame anyone for this," he told Mediaset Premium .
"People had fun watching Lazio play this season and we hadn't seen the stadium buzzing like this since the days of winning the Scudetto. Entering the Champions League would've been the icing on the cake, but we'll have to try again."
Lulic, who started alongside De Vrij on Sunday for Lazio but was red-carded in the 79th minute, also leapt to the Dutchman's defence and wished him well in Nerazzurri colours next season.
"Too much has been said about this," Lulic said to Sky Sport . "He put in a great performance and set the example for everyone.
"He was very disappointed by the error on the penalty, but he fought to the end with us. I wish him all the best at Inter."