Manchester United
'Ibrahimovic will send Lukaku to the bench' - Man Utd striker offered European warning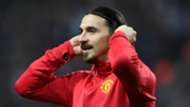 Romelu Lukaku should ready himself for Champions League bench duty at Manchester United once Zlatan Ibrahimovic returns, Paul Parker has warned.
The Red Devils spent £75 million on the Belgium international over the summer having found themselves short of a leading frontman.
Ibrahimovic had been released at the end of an initial 12-month stint at Old Trafford, with the Swede nursing knee ligament damage which had brought his campaign to a close.
He has since been drafted back in on another short-term deal and Parker believes his vast experience – and Lukaku's lack of at the very highest level – will see Jose Mourinho favour a 35-year-old striker in Europe once in a position to make such a selection choice.
The former United defender wrote in a column for Eurosport: "There's a few players in that United squad who have very little experience at this kind of level, particularly in the attack: Lukaku, Marcus Rashford and Anthony Martial spring to mind.
"Lukaku worries me a bit as the most important thing in Champions League football is ball retention and to kill the game, especially if you get a goal in front. Patience is vital. He doesn't strike me as that kind of player – at least at the moment.
"It's a very different task to playing in the Premier League where he is undoubtedly one of the best strikers of the past five years.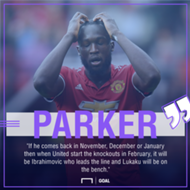 "That's why I think Zlatan could play a bigger role in Europe than he does in the Premier League this season.
"If he comes back in November, December or January – whenever it may be – then when United start the knockouts in February, providing they make it, it will be Ibrahimovic who leads the line and Lukaku will be on the bench, without a shadow of a doubt."
Lukaku will be hoping to put down an early marker and prove his Champions League credentials when United open their 2017-18 group stage campaign with a home date against Basel on Tuesday.
Rom 15/8 to score first v Basel
The 24-year-old has netted five times in as many competitive appearances this season to offer an immediate return on the sizeable investment made in his talent.