World Cup
'I wouldn't like to see him after a flu injection!' – Neymar branded 'absolutely pathetic' by O'Neill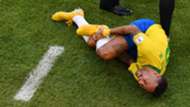 Neymar has been branded "absolutely pathetic" by Republic of Ireland manager Martin O'Neill, who has accused the Brazil star of playacting and detracting from his own abilities.
The Paris Saint-Germain forward scored one and set up the other as the Selecao progressed to the quarter-finals of the World Cup at the expense of Mexico , but he has once again come under the spotlight due to his reaction to being fouled.
One incident in particular caught the attention, with Neymar reacting dramatically after apparently having his foot trodden on by Miguel Layun when the ball was dead.
O'Neill, speaking to ITV, did not hold back on the matter and questioned why he needed to make such a big deal of every bit of contact.
"Neymar's reaction is pathetic. It's absolutely pathetic," the former Celtic and Aston Villa manager said. 
"Honestly, it's a red card nowadays because they've spotted standing on his foot. But I mean the pain threshold of Neymar is just incredibly low, I must admit. I wouldn't like to see him coming out of the doctor's surgery after getting a flu injection. 
"He's a top-quality player, he's a top-quality actor. 
"He hasn't really hit it yet… part of that thinking is to do with this playacting. He's been down dozens and dozens of times, he gets up again. He's completed four games, he hasn't done too badly out of it."
The moment overshadowed a commanding performance from the Brazilians and Neymar, who netted his sixth goal in World Cup finals. In doing so, he achieved the mark in quicker time than either Cristiano Ronaldo or Lionel Messi .
Mexico coach Juan Carlos Osorio was furious with officiating in the last 16 tie in Samara, claiming that the referee was biased towards the 2014 World Cup semi-finalists .
Tite's side have now won all of their last three matches after being held to a 1-1 draw by Switzerland in their opening game.
Next up for Brazil will be a quarter-final date with either Belgium or Japan, potentially followed by a semi-final with France or Uruguay.