Transfers
'I would say that he will stay' - Hoeness sees Boateng stay amid PSG interest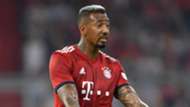 Uli Hoeness doesn't believe that Jerome Boateng will be leaving the club this summer, despite constant speculation surrounding the defender. 
The 29-year-old has been heavily linked with a move to French giants Paris Saint-Germain, with Hoeness himself admitting earlier in the summer that a potential deal was "50-50".
Germany international Boateng has spent the past seven seasons in Bavaria but Hoeness has also revealed that the 29-year-old informed chairman Karl-Heinz Rummenigge of his wish to leave amid reports of interest from the French side and negotiations with Manchester United earlier in the summer. 
It seems things have changed, however, with Hoeness now feeling that the centre-back will be staying in Munich.
Speaking after Bastian Schweinsteiger's farewell game in Munich, Hoeness told reporters: "If you want to hear my feeling tonight, I would say that he will stay in Munich."
Head coach Niko Kovac has long been convinced that the defender would remain with the club.
Speaking prior to the German Super Cup victory over Eintracht Frankfurt earlier this month, he said: "I can't tell you what's going to happen, but I am very confident about Bayern considering the way the team is conducting itself.
"Right now, I am just assuming all the players will be here in September.
"I am very comfortable about the situation, the squad is complete."
While the transfer season is finished in England and Italy, much of the rest of Europe has until the end of the month to complete deals. 
Boateng featured from the start in Bayern's 3-1 win over Hoffenheim last Friday. It was his 260th appearance for the club, having arrived at the Allianz Arena from Manchester City in 2010.
He came through the youth ranks at Hertha Berlin and then moved to Hamburg before switching to the Premier League.
He remains committed to the Germany international side following their shock World Cup exit and has made 73 appearances for them, scoring one goal and winning the World Cup in 2014.
At club level, he has won the Champions League as well as the Bundesliga on six occasions.