Juventus
'I was willing to stay for many years' - Morata admits he misses Juventus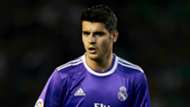 Alvaro Morata has admitted he misses Juventus, insisting he was willing to stay in Turin for "many years" had Real Madrid not re-signed him last summer.
BVB dismiss Tuchel to Arsenal talk
The 24-year-old enjoyed a stellar spell with the Bianconeri after joining them from Real in 2014, lifting several honours including two Serie A titles and two Coppa Italia crowns with the Italian giants.
However, Morata's time at Juventus came to an end when Real activated a buy-back clause to re-sign him ahead of the 2016-17 season.
But the striker has since revealed he was willing to remain at Juventus, so much so that you would have otherwise had to "drive" him out of the club had Real not had the option to lure him back to Spain.
"I am not Italian, but I gave everything for the Bianconero shirt and I was willing to stay there many years," Morata told Corriere dello Sport.
Mkhitaryan thanks Klopp for advice
"Juventus knew that. The only problem was that Madrid had been my dream since when I was little. Without the buy-back option, you would have had to drive me to get me away from Turin!
"I miss the Italian group from the dressing room - [Leonardo] Bonucci, [Andrea] Barzagli, [Giorgio] Chiellini, [Claudio] Marchisio, [Gianluigi] Buffon, they were key in my adaptation to Juventus and Turin.
"If I had come into a bad dressing room at Juventus, I wouldn't have done so well."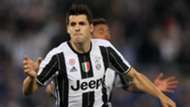 Morata could come up against Juventus in the Champions League this season, with both Massimiliano Allegri's side and Real in the last 16 of the competition.
And the marksman's love for Juve runs so deep that he says he would have mixed emotions should the two lock horns in Europe's premier club tournament.
He added: "Would I sign for a Real Madrid-Juventus final? Juve are Juve and they always aspire to the maximum. I admit I wouldn't like it, but just to be there I would sign for it.
"If I had to lose a final, I would prefer to lose against Juventus over losing to other teams. But now we need to focus on Napoli [Real's last 16 opponents].
"If we think about a hypothetical final, Napoli will send us home."