Sydney
'I sweat a lot' - Buijs not worried about A-League conditions
Goal Australia Chief Editor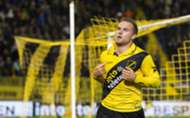 New Sydney FC defender Jordy Buijs has claimed he could be acclimatised to Australian conditions within a week, while the Dutchman paid tribute to coach Graham Arnold.
Buijs fronted on Tuesday after arriving in Australia on Monday, with the 28-year-old embracing the pressure that comes with joining the undefeated A-League leaders.
With temperatures barely getting above freezing in the Netherlands at the moment, it wouldn't be a surprise if Buijs initially struggled playing in the heat of the Australian summer as many other foreign players have before him.
But the former De Graafschap and NAC Breda centre-back claimed he is used to the heat after a short stint with Romanian club Pandurii Targu Jiu.
"I think I need maybe one week [to acclimatise], maybe, I don't know," Buijs told reporters.
"The weather I like. I had this before also in Romania it was 43 degrees, so for me it's not a very big point. I sweat a lot."
Buijs left Pandurii after the club went bankrupt last month having initially moved to Romania in July.
Arnold moved quickly to sign the Dutchman, who played at two of the coach's former clubs in NAC and Roda JC, after Matt Jurman left Sydney for Suwon Bluewings and Seb Ryall injured his hamstring.
Buijs explained that Arnold's knowledge of the Eredivisie and previous history with NAC meant his new boss had seen him play a few times when he was at Breda from 2011 to 2014.
"So the connection was close and he gave me a good feeling and I am a man of my feeling," the Dutchman said.
"This is one of the important things in my life and the trainer gave me this so I need to give him something back on the field."
Buijs added he isn't worried about the pressure of joining a club midseason that are not only challenging for the title but attempting to finish the A-League campaign undefeated.
"When I feel the pressure I'm on my best," he said.
"So I need this and I think it's good for professional football players to have this pressure to put everything out of your body."