I-League
I-League: NEROCA'S Gift Raikhan - The referees are very poor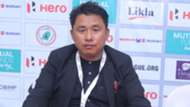 NEROCA FC suffered a blip on Sunday afternoon as they went down 2-3 to Mohun Bagan in what was an entertaining game for the neutrals.
The home side took the lead through Subhash Singh before Asier Dipanda got the equalizer from the spot. Gift Raikhan's team once again went ahead through Felix Chidi only to see Dipanda add another at the half hour mark.
At the start of the second half, Akram Moghrabi added his name on the score-sheet in what eventually turned out to be the winner.
"Winning and losing is part of the game. Both the teams played well. We committed some mistakes, especially our defence. I am not complaining but referees are very poor with very bad decision making. Previously every coach blamed the referees but today I am also blaming the referee. We played good football. We scored two goals but they scored three. So congratulations to Mohun Bagan!" said Raikhan.
The former Pune FC assistant coach claimed that Dipanda's second goal should have been flagged offside. He also believes that his side gave away a cheap penalty and should have marked Moghrabi as he was only allowed time and space to head home the winner.
"The second goal was offside. Whoever was watching live they know. We gave away a penalty very easily. Also, Akram's open header was our fault. But we scored good goals. I am really happy," he mentioned.
Nick Ward of Australia has joined the north-eastern club to replace Akhlidin Israilov.
"The new player has just joined. He practicing with us but I cannot comment on his progress," Raikhan signed off.