I-League
I-League: NEROCA's Gift Raikhan - We have been weak in the final third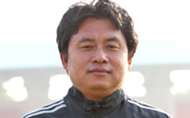 NEROCA FC play their final home game of the I-League season this Sunday and they come up against Mohun Bagan. The Manipuri outfit are leading the table with 31 points from 16 matches.
A win on Sunday would further extend their lead at the top and coach Gift Raikhan mentioned that the Green and Maroon brigade won't make it easy for his team.
"Pressure is already there for me as we have only two games remaining. It is not about Mohun Bagan or even Gokulam or Indian Arrows, the pressure is always there. But Mohun Bagan is a good team and if you can win, it is good.
"It's not about the championship, it's about the history for me and the players too. Mohun Bagan won't play easily as they have no pressure but it is about prestige. They will come all out though as they don't have any chance (to win the title). We cannot predict as anything can happen in football. We respect them as they have good players.
"We have been weak in the final third. We need to utilize the resources we have. (Aryn) Williams played as stopper then midfielder and we had to play him as a striker and he scored in the last game," he mentioned.
NEROCA won the I-League second division last year and got promoted into the top tier. The Imphal-based side are hoping to create history should they win the league title at the end of the season.
"Our first target was to finish in the top three but now that we have a good chance (to win the title) and so why not go for it. Opportunities like this may never come back again; we have to create history for younger generations. It is good for football. We are moving forward together and whatever we do is not for personal motive, it is for the better of football.
"Earlier, ask a young boy here and they would say they want to play for either Mohun Bagan or East Bengal, now they want to play for NEROCA - their home team," he said.
Raikhan wants the progress made his club to continue next season and believes that it will inspire people to take a keen interest in developing the sport in the state.
"Now, people are putting their hands up and deciding to take projects to bring about a change in Manipur football. Manipur people might not be very rich, but they have money and now experience. We started out as a second division club and learnt the tricks and gained experience. The players, management and the club as a whole developed together and then we were in a good mood for the I-League.
"I hope this cycle continues forever for NEROCA and I wish to be here. We have worked in a very sincere way to reach this position."