I-League
I-League: Indian Arrows' Luis Matos pleased to have answered skeptics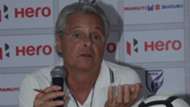 Indian Arrows began their I-League sojourn on a positive note as they downed Chennai City FC with a resounding 3-0 victory. Coach Luis Norton de Matos stated that the win would certainly silence the critics who were of the opinion that the young Indian players couldn't compete against I-League teams who have the luxury of roping in five foreign players as well. 
"For the sceptics who said that it's going to be impossible (for U17 and U19 boys) to play against adults who are physically stronger, it is a good reply. It's the first game, we won. I know it's not always going to be like that. We will enjoy this win for 24 hours and start preparing for the match against Minerva (Punjab)," said Matos.
The Portuguese coach believes that his team deserved to pick three points against Chennai and that the key was to be organised.
"I had big expectations, to be honest. I didn't know which kind of team we would play against. What I told my players is that it is very important to play in an organised manner even though we are less experienced. We must keep our discipline that we showed in the (U17) World Cup and AFC Under-19 Qualifiers in Saudi Arabia.
"I think 3-0 is a good result and we deserved to win. Chennai had two or three very clear opportunities to score. For us, what is very important is for the boys to believe that they can play at this level and that they can progress in this competition (I-League)."
Only one Under-19 player was included in the starting eleven – Edmund Lalrindika, who is in the Arrows squad on loan from Bengaluru FC.
"Some U19 players are signed by the teams in the Indian Super League (ISL) and the clubs said that the players would stay with them. If we were qualifying for the U19 Championship, it made sense to play more U19 players because we were preparing for a competition.
"I prefer to put the same defence who finished two U19 games (qualifiers) with success. It's the third game we didn't lose and didn't concede," signed off Matos.