I-League
I-League 2017: Mohun Bagan's Sanjoy Sen- 'East Bengal looked to be more under pressure than us'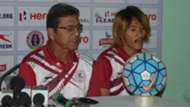 The first Kolkata derby of 2017 edition of India's top-flight league ended in a goalless draw at the Kanchenjunga Stadium in Siliguri. The game saw both sides creating enough chances to win the game but they could not capitalise on any. 
Mohun Bagan coach Sanjoy Sen stated that although he was content with the goalless draw, his side initial aim was far higher. Furthermore, he claimed that The Reds and Golds looked more drained than the 'visitors'.
''We did not play for a draw. Many people have proclaimed that we were under pressure but in my eyes, the opposition looked more under pressure than us. We controlled the game during most periods but I am satisfied with the draw. My players tried hard to win but maybe they could not materialise chances they got,'' he claimed.
I-League 2017: East Bengal 0-0 Mohun Bagan - Kolkata derby ends goalless
The Mariners' boss believed that the lack of clarity in the final third was the reason for the goal drought on the night. ''We created (chances) but there was a lack of what you call the 'final ball',''  he mentioned.
The crowd at Siliguri was dynamic as fans turned up in huge numbers to support both the sides. The undying spirit of the audience was applauded by the ex-Prayag United manager. ''I have to give a lot of credit to both sets of supporters that they took the game in high spirits. It was much talked about that it is a match of the Bengalis. The game might not have been too interesting but the level of support throughout was constant,'' he expressed.
Sanjoy Sen was also asked for his opinion on youngster Subashish Bose's below-par performance. The Bagan manager, surprisingly, sounded happy with the 21-year-old's display and explained that he needs to be aforded time to improve. 
''I have said this many times that a good player is not born on the first day of his life. You have to play derbies, you have to play big matches and then you become a better player. You won't have experience until you play. I am really pleased with the way (Subashish) Bose carried himself. He did well against (Nikhil) Poojary, who is also a very good player,'' asserted Sen.
Indian Football - Praful Patel: 'Bhaichung Bhutia and Abhishek Yadav will be involved with the U17 national team'
The manager had words of appraisal for Brazilian centre back Eduardo Ferreira, too. Sen claimed that the former FC Pune City player had a decent game, especially taking into consideration that he returned from an injury.
''Even Eduardo (Ferreira), you have to give him a lot of credit as he made his way after the injury. Well, you might point him out for missing the opportunity to block off (Willis) Plaza but there is something called the last line of defence and Debjit (Majumder) did really well to block the effort,'' remarked the 2014-15 I-League winning coach.
Haitian Sony Norde had a disappointing game on Sunday evening as he failed to register his name on the score-sheet. The 27-year-old was seen trudging off with a bowed head while being substituted. Sen commented on his star winger's display by highlighting his defensive contribution, alongside team-mate Subashish.
''Sony (Norde) was not totally fit as he was carrying niggles from the injury he received. I will commend him for his defensive work though as he tracked back well with (Subhasish) Bose to counter (Nikhil) Poojary,'' said Sen.
Mohun Bagan, who are second on the points table with 17 points, will next fly to Mumbai to face The Yellows. The Maharashtra outfit have registered six back-to-back losses. Despite the woeful form of The Mumbaikars, Sen has vowed to not take them lightly.
''Away matches are never easy. If we want to get three points in Mumbai against a team who have lost six in a row, it will be difficult. Teams always want to give their utmost best against teams like Mohun Bagan and East Bengal,'' he signed off.