I-League
I-League 2017: Mykola Shevchenko bemoans luck in defeat to Shillong Lajong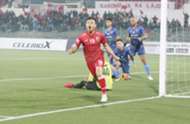 Shillong Lajong FC manager Lyngdoh Nongbet was understandably delighted after his side leapfrogged Minerva Punjab for the top spot in the I-League courtesy of a 2-0 win over Churchill Brothers.
"I am happy with both sides of our game. Our offence and defence were both strong from the very start," he said at the post-match press conference.
The tactician revealed their first priority on Saturday was to not concede any goals.
"We were trying to be cautious initially as we did not want to concede any goals," the tactician remarked.
Asked to rate his side's performance in their opening two games, Nongbet said that it was the result that mattered ultimately in the first but he was delighted with the display against Churchill Brothers.
"In the first game, the result was all the counts. Tonight the first goal was crucial as it allowed us to play more freely with more of the possession," he said.
On the other hand, Churchill Brother's coach Mykola Shevchenko bemoaned his side were unlucky in the 2-0 loss.
"We were unlucky tonight. Had we capitalized on our chances the result could have been a lot different," he said.
"Shillong scored two lucky goals. The team played well but the result was not as desired. A draw would have been a fair result considering our performance," he added.
Shevchenko was unwilling to blame the inclement weather in Shillong for his side's defeat.
"The weather played no part in our defeat tonight," he said to conclude.