I-League
I-League 2017: Bengaluru FC's Albert Roca - 'We are forced to fight against opponents and refereeing decisions'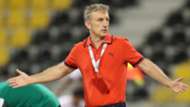 After a disappointing I-League draw against Chennai City that left his side in fifth position with 17 points from 12 games, Bengaluru FC coach Albert Roca expressed his displeasure with the way his opponents shut shop and defended against his star-studded squad.
"I think we have to disappointed for the result and not the performance. My team has played very well today. There is only one team which wanted to win on the pitch. The other team just wanted to waste time and clear balls. This is not football but unfortunately, we were unlucky in many aspects," Roca lamented. 
"The final result doesn't show what happened on the pitch. My team fought until the last minute. Chennai were luckier than us."
Re-LIVE: Chennai City 1-1 Bengaluru FC
The 54-year-old coach went on to express his disappointment with several refereeing decisions, especially a handball by Debabrata Roy inside the Chennai box late on in the match which went unpunished by the official.  "The refereeing decisions were not helping us. We are trying to push and press. If it is a penalty, the referee has to whistle even if it is the last minute. We didn't understand many decisions from the referee. All such decisions normally go against us," he raged at the post-match press conference. 
"I'm really disappointed with some of the referees. They are always against us. I'm tired and we are forced to fight against that kind of decisions as well. I try to think it was not done on purpose," he added.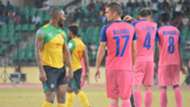 He then carried on in the same vein and blasted the home team for their refusal to try and win the game which was played in Chennai. "We have always tried to play football until the last 3-4 minutes. The other team does not want to go forward and only tried to clear the balls. The pitch was not in a good condition and it is an advantage for them at the end. They were happy with one point. I don't like that kind of teams who sit and defend. But one has to wonder why Chennai don't want to play for a win at home," Roca wondered. 
Amiri hits out at Chennai coach Soundararajan
The former Barcelona assistant went on praise his two young forwards Udanta Singh and Daniel Lalhlimpuia, earmarking them for greatness. "Udanta (Singh) and Daniel (Lalhlimpuia) only need to play more and they will develop. Unfortunately, the system in India allows players to mature very late. They need to play in intensive games. They have the technical quality but need to improve technically. They are on the way. They will be very important for India in the near future," stated Roca. 
Before he concluded, the Spanish coach also stated that Bengaluru want to do well in the Asian Football Confederation (AFC) Cup 2017 and were taking each game as it comes. "We don't want to change our priorities in terms of performances. We will be ready for the AFC Cup. We were the finalists last year. We want to have a high level this year. We have been one of the top teams in India. We will do the best in all competitions. Our performances are getting better. We are far off the title but we will take it game by game and fight till the last."