I-League
I-League 2017-18: Norton de Matos criticises Dheeraj Singh's decision to leave Indian Arrows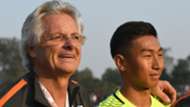 Indian Arrows will be taking on Kolkata giant East Bengal on January 2 at the Dr. Ambedkar stadium in New Delhi. In the pre-match press conference, head coach Luis Norton de Matos did not mince words while making it clear that Dheeraj Singh's decision to leave the Indian Arrows project might not be the best for his career.
"Around the players, there are a lot of agents and advisors who don't know what is the process of development. I think the best for Dheeraj (Singh Moirangthem) would have been to play the I-League and after I-League he could have taken a trial in Europe. It is different to appear for a trial with 15 games worth of experience under your belt as you will be more confident.
"If he signs for a professional club in Europe, he cannot play until next September as he is not 18 years-old. So these eight months he can only train without playing any competitive football. I don't know who advised Dheeraj, but I hope to be wrong that perhaps this decision was not the best decision for his career,'' stated Matos.
He further refused to accept that his team would be significantly weaker without Dheeraj as he believes in the collective performance of a team.
"I never depend on one player. I always talk about the collective. So, Dheeraj not available for me is like he is having an injury and cannot play for three months. I need to put my trust on another player who will develop in this tournament and for future international competitions," expressed the Portuguese coach.
The coach praised his boys' performance against Mohun Bagan where they managed to salvage a draw even after going down to 10 men in Kolkata.
"We had a good result against Mohun Bagan in Kolkata but I think the most important thing is that the boys have believed that it is possible to play against these high-level teams in I-League. We are going to play to win. Kolkata was a big lesson in the collective power of the team. They showed more maturity and spirit in the second-half in spite of going down to 10 men."
"The boys have surprised most people. They are more and more confident. They have understood that it is not a question of age but the mentality, it is a matter of collective performance and they believe in the process. We are the only Indian team and all below U-19 which is fantastic. In the long run, Indian football is the only winner," commented Matos.
The former Benfica B coach holds East Bengal in high esteem and expects another tough encounter on Tuesday. 
"East Bengal is one of the best teams in I-League. Whenever I watch East Bengal, I watch the team playing according to the plan of their coach who is pretty organised. They have three to five players who are very difficult to stop. But we would like to keep the ball and not play them. Against Mohun Bagan we conceded from a penalty, they had the crowd backing them but my boys reacted excellently to get one goal back. Tomorrow, I expect a very hard game because the question of recovery looms large,'' discussed the 64-year-old.
Arrows have quite a tight schedule which has hampered the recovery of the lads, but Matos does not seem too concerned as it gives him an opportunity to test other players of the squad as well.
"We do have a tight schedule as we have games on the 5th, 8th and 12th. All games are very hard which obliges us to work harder. It's not a final or that we must win. So, I don't risk the physical stability of a player. But it is an opportunity for the other players to come and show their talent. I would like to play a game every seven days and prepare like a normal competition with only one or two changes and not five changes. But not so much of a problem for me," stated the head coach
On the other hand, East Bengal coach Khalid Jamil was also full of praise for the young Arrows team and acknowledged that his team will have an advantage in the absence of Dheeraj.
"Indian Arrows is playing good football. We are not taking them lightly as they play as a unit and every individual is hungry to prove."
"Dheeraj was the man of the match against Mohun Bagan, and he is good goal-keeper. So there will be an advantage for us tomorrow as he will not be playing tomorrow."
The former Aizawl FC coach stressed on rectifying mistakes as they conceded late against NEROCA for being too defensive in the second-half.
"When you score an early goal you get a little defensive and it was also an away match. We conceded a late goal but we must rectify our mistake. Last two matches, (Indian) Arrows played fantastic football. It is not that we will play defensive after scoring one goal but it will depend on the situation whether to attack or defend," said Jamil.
He was also accompanied by Trinidadian Willis Plaza, who might not feature against Arrows due to a hamstring injury.
"There has always been pressure but no matter what you do you must contribute to the team. If I don't score but I assist, then also it relieves the pressure. I have support from Katsumi (Yusa) and (Mahmoud Al) Amna. I am trying to do my part on the pitch and working hard," concluded Plaza.