I-League
I-League 2017-18: Soundararajan - Players were motivated and gave their hundred percent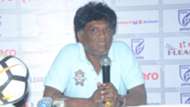 Chennai City FC outclassed Churchill Brothers 3-1 at home on Friday to spice up the relegation battle in I-League. Michale Soosairaj scored a brace and Aleksandar Rakic scored one two seal three points for Chennai. Monday Osagie scored a consolation goal for the visitors in the 93rd minute.
Chennai coach V Soundararajan was understandably elated after their maiden home victory in this season at this crucial juncture. Speaking about his team's performance, the coach said, "We had never won a match in Coimbatore before this game. So the players were motivated and they gave their hundred percent. The margin could have been bigger but I am very happy with today's result."
The home coach once again mentioned that fatigue was the reason why Churchill Brothers underperformed. "Churchill Brothers were tired as they had to travel so much. I had mentioned before the match that they are playing two matches in a gap of four days. They travelled from Imphal to Coimbatore," said Soundararajan.
Away coach Alfred Fernandes stated that even starting the game on a positive note, his team faded away as the game progressed. He said, "We started very well. There were some crucial mistakes in the midfield. We lost possession twice. Due to some silly mistakes, they created some pressure and due to the pressure, we conceded that goal. We were 0-2 down in the first half. We conceded some silly goals. Stil, we could have made a match out of it."
Chennai City overtake Churchill in the league table after tonight's win at home. They are now on the seventh position on the league table with 16 points from 16 matches. Churchill, on the other hand, go down to the ninth position.