I-League
I-League 2017-18: Churchill Brothers coach Alfred Fernandes - Confidence level is very high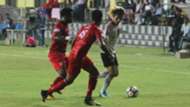 Churchill Brothers coach Alfred Fernandes is hoping for a new beginning for his side when they take on Gokulam Kerala in an I-League match at the EMS Stadium in Calicut on Monday. The Goa-based side are languishing at the bottom of the table with just one point from their six games so far. 
"With the new reinforcements, we seem sorted. Some of the performances you have seen from the new players, we almost came out with three points against East Bengal and hopefully that was the start of a new beginning for us. The team is gelling up well with the quality foreign signings and the local boys," said Fernandes.
The coach stressing the importance of three points said,"When a team goes on the ground, they always aim for three points and that will be our aim. We have put in the hard yards on the training field and hopefully, that should reflect on the field."
"After this game, we have some home matches and three points here will give us the confidence. Hopefully, we will be on the winning side. The confidence level is very high now and we are very motivated. Three points tomorrow (Monday) will be a boost for the rest of 2018."
Churchill Brothers' opponents Gokulam Kerala have not been performing well either and are just three points better off on the table.
"The management is still with me and I am still confident that we can bounce back," said Gokulam Kerala head coach Bino George, who has had to shoulder the blame for the misfiring foreigners in the squad. "Players are also confident to bounce back and prove themselves. We are not underestimating Churchill but we will not allow them to get infront of us," he signed off.